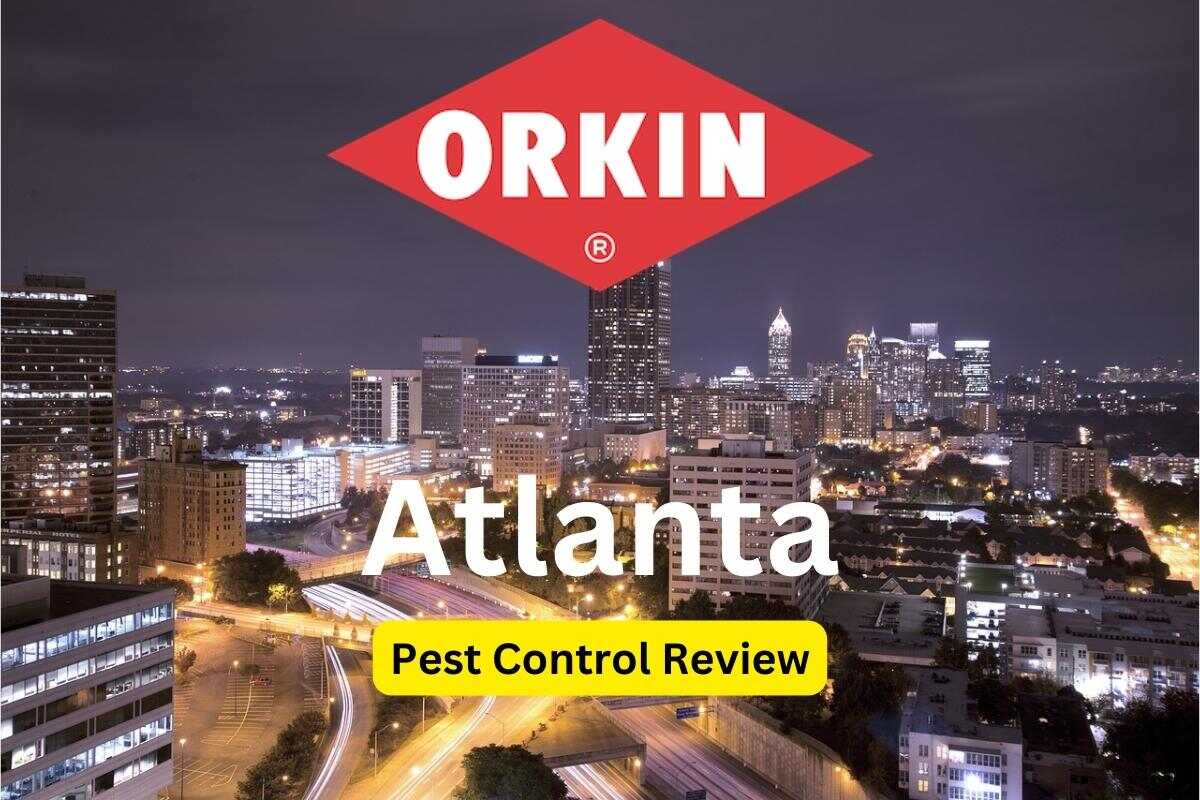 Living in Atlanta and spotting a celebrity on the street while they are on break from one of the city's many film sets is exciting. Spotting a roach scurrying across your kitchen floor and out of sight is quite the opposite.
With so many pest control companies to choose from, it can seem impossible to pick one. But as one of the nation's leading pest control services, Orkin can get rid of your roaches. And here's a fun fact: The company is also a local celebrity because it is headquartered in Atlanta.
This Orkin review covers everything you need to know about the Orkin Atlanta branch's services and customer experience. We did the research for you. Though Pest Gnome has an affiliate relationship with Orkin, this Orkin pest control review is fair and unbiased.
Orkin
Same-day service

Satisfaction guarantee

Services the entire Austin area
Orkin Atlanta at a Glance
Pests They Treat
| | |
| --- | --- |
| Pest | Orkin Atlanta |
| Ants | ✔ |
| Bed bugs | ✔ |
| Beetles | ✔ |
| Carpenter ants | ✔ |
| Centipedes and millipedes | ✔ |
| Cockroaches | ✔ |
| Crickets | ✔ |
| Earwigs | ✔ |
| Fleas | ✔ |
| Flies | ✔ |
| Mites | ✔ |
| Mosquitoes | ✔ |
| Moths | ✔ |
| Pantry pests | ✔ |
| Rodents (mice, rats, etc.) | ✔ |
| Scorpions | ✔ |
| Silverfish | ✔ |
| Spiders | ✔ |
| Stinging pests (bees, wasps, etc.) | ✔ |
| Stink bugs | ✔ |
| Termites | ✔ |
| Ticks | ✔ |
| Wildlife | ✔ |
Pricing
| | |
| --- | --- |
| Service | Orkin Atlanta |
| Basic Pest Services | $200 up front, $47 per month after that |
| Termite Treatment | N/A |
| Bed Bug Treatment | N/A |
| Single Treatment | $275-$350 |
Main Features
| | |
| --- | --- |
| Feature | Orkin Atlanta |
| Service Plans Offered | |
| One-time service? | ✔ |
| Monthly service? | ✔ |
| Quarterly service? | ✔ |
| Offers eco-friendly options? | ✔ |
| Does it serve commercial properties? | ✔ |
| Customer Service | |
| Gives instant quotes online? | ✘ (only on the phone) |
| Has an online portal for scheduling, billing, etc.? | ✔ |
| 24/7 customer support? | ✔ |
| Better Business Bureau rating | A+ |
Other Orkin Atlanta Services
Orkin treats all kinds of pests, but they also provide special services.
Attic Insulation
With a scientific and environmentally focused approach, Orkin technicians can install one of three types of their signature insulation in your attic, crawl space, or walls to save you money on electric bills and stave off common pests. 
The insulation will:
Protect your home against unwanted pests
Help save on energy costs year-round
Prolong the life of your air-conditioning system
Protect items stored in your garage
Gutter Protection
Not only is cleaning your gutters a hassle and potentially dangerous, but standing water and debris in gutters make a great breeding ground for mosquitoes, or a home for other pests and wildlife.
Orkin Leaf Stopper, "a specially treated open-cell, multipolymer insert," protects your gutters from pests, debris, and water damage that can lead to more serious structural issues. It's worth mentioning that Leaf Stopper doesn't dent, break, or rust. And Orkin provides free gutter inspections.
Control Moisture
Worried that excess moisture in those muggy southern summers might lead to mold, termite damage, or even structural damage? Orkin offers a free moisture test to see if Orkin DryZone is right for you.
Orkin technicians will check crawl spaces, garages, and other areas of your home that trap moisture and create a custom program to treat excessive moisture by reducing humidity. DryZone can preserve your pipes and increase your home's energy efficiency.
Manage Your Wildlife
Damaged wires, mysterious holes, funny smells or sounds – these are all signs you might have some critters residing on your property or in your home. And they're not paying rent.
Orkin will remove unwanted guests, seal up possible entry points, and install repellents to deter future freeloaders from visiting your home or garden.
Mice and rats fall under Orkin's general pest control plan, while squirrels, raccoons, and the like fall under their wildlife management service.
An Orkin specialist will safely trap and remove any woodland critters that might be scratching around in your attic or walls.
Sanitation Service
Orkin's VitalClean is a service targeted for businesses where pros use a powerful disinfecting agent that can completely kill bacteria and viruses on hard surfaces and sanitize soft surfaces.
With the EPA's stamp of approval as "practically non-toxic and not an irritant," it's a way for business owners to disinfect their buildings at a time when hygienic workplaces are a priority. And Orkin offers a free consultation.
Orkin Atlanta Highlights
Orkin didn't become an industry leader just because the company name is fun to say. It's because of their commitment to their customers and their many years of pest management experience.
Otto Orkin founded his pest control company in 1901 in Pennsylvania. After moving his operation to Richmond, VA, he decided to place his headquarters in Atlanta and quickly spread his business to other major southern cities.
Orkin now has more than 400 locations and more than 8,000 team members. Together, they have served over 1.7 million customers around the world.
The Orkin Satisfaction Guarantee
The Orkin satisfaction guarantee is, "We're not happy, until you're happy."
They offer a 30-day money back guarantee, complementary service, or a full refund on your last visit if you're dissatisfied with their performance, so you know they're motivated to do the job right the first time.
Extensive Training
With over 120 years of experience, Orkin has their employee onboarding process down to a science.
Each Orkin pro goes through 160 hours of standardized training. They simulate environments they'll encounter in the field, and they consistently make Training magazine's prestigious Top 125 list. They've even been featured as Editor's Choice honorees.
Environmental Approach
Orkin tries to limit the impact of pest control on the environment.
EPA Approval: Orkin only chooses products that are approved by the Environmental Protection Agency, and their award-winning training ensures that they're applied properly, with maximum effectiveness and minimal environmental impact.
High Standards: As a member of the National Pest Management Association's Quality Pro program, Orkin holds itself to the highest moral and operational standards.
Efficiency: Orkin implements efficient procedures at every turn, from calculating the most fuel-efficient travel routes to reducing waste by utilizing electronic payroll and companywide recycling initiatives.
In fact, in 2009, Rollins, Inc. (Orkin's parent company) won the Buckhead Area Transportation Management Association's "Best Overall Commuter Program" award in Atlanta.
They also have an Environmental Stewardship Group composed of employees from various sectors who review company practices in order to uphold environmentally responsible action.
Public Health & Education
In addition to their partnership with the Red Cross to encourage blood donations, Orkin has donated over $220,000 since 2020 as part of their Mosquitoes Don't Deserve a Drop™ initiative, which seeks to protect the public against the health hazards posed by mosquitoes.
Orkin also partners with the CDC to educate people (including their own employees) about pest-related diseases. They've created resources such as the Guide to Dangerous Pests brochure and their hidden home threats checklist.
How to Get an Instant Quote and Order Service Online
Interested, or need to know more? Orkin makes it easy to get a free quote.
Step 1. Start by clicking on "Get a Quote" or "Get a Free Quote" anywhere on Orkin's website.
Step 2. Select the reason for your inquiry and input some basic contact information. Here, you have the option to select a date and time that best suits your schedule to receive your callback and quote.
It's important to note that some services require an inspection to diagnose. The service representative who contacts you will likely ask what pest you are dealing with, how long the issue has been occurring, and how large your property is.
Orkin Atlanta Customer Reviews
Pest service was great, customer service not so much: "The exterminator was great. I have no issues with him or the work he performed. However, getting this company to actually return my phone calls for follow-up service appears to be problematic…" – Susan S., Google
Everything went as expected: "Scheduled online and they showed up when they said they would. I needed a termite inspection letter for a house sale which they provided, as well. Easy to work with, and I would use them again." – Erik L., Best Company
Not as advertised: "The bug spray works decently and keeps pests away, but we're clean too, so that helps. But they don't do what's advertised on their website. It's a total ripoff. I even spoke to the manager of the offices and he said that they don't have to do everything on the website. We saw some ants and spiders the other day and I called to get someone sent out for free per their guarantee. I had to pay full price for someone to come and take care of the bugs instead of them standing behind their guarantee." – Tory D., Yelp
Pros
100+ years of experience
Same-day service
Money-back guarantee
Highly trained technicians
Cons
Costly inspections
No instant quotes
Buyers Guide to Choosing a Pest Control Company in Atlanta
When choosing who to trust with restoring peace to your home and your mind, there's more to consider than just what their website offers. The company's reach, reviews, and cost are all worth factoring into your decision.
Your Location
Orkin has two locations servicing the Atlanta area.
One, located in Blandtown, only services businesses. The Doraville location only services residential customers.
Orkin Doraville (Residential Only)
3816 Dekalb Technology Pkwy
Doraville, GA
678-500-8931
Orkin Atlanta (Commercial Only)
1400 Marietta Blvd NW Ste B
Atlanta, GA
470-407-7873
Pests Covered
Orkin Atlanta specializes in tackling local pests including:
Cockroaches
Termites
Ants
Mosquitoes
Rodents (like rats and mice)
Spiders
Stinging pests (like wasps and hornets)
Fleas
Bed bugs
Eco-Friendly Options
Another advantage of going with Orkin is their commitment to social and environmental responsibility.
The EPA's approval of their products combined with their membership in the National Pest Management Association's Quality Pro program, shows Orkin is held accountable to high ethical and practical standards when it comes to protecting the environment.
Orkin substitutes eco-friendly pest control methods for chemicals where possible.
Pheromone traps use a manufactured version of insect pheromones, the chemicals bugs use to communicate, to lure and trap pests.
Fly lights are simple traps that use UV light to lure flying insects onto adhesive boards. Sticky paper alone also can be used in areas of high pest traffic.
Repellants come in non-toxic varieties, as well.

Repellant dust uses a compound extracted from the pyrethrum flower.
Silica gel, the substance inside the little packets that come with foods like beef jerky or dried fruit, is also used as a repellent. It kills insects after they come in contact with it.
Orkin is also committed to reducing air pollution by using software to calculate the most fuel-efficient routes of travel for their technicians.
Customer Testimonials
Reviews of Orkin in Atlanta are mixed.
Many customers say Orkin technicians are late, skip scheduled appointments, or show up without warning, and that the pest management methods detailed on their website differ from those actually used. Most of all, some homeowners are frustrated they cannot get in touch with Orkin or their technician.
Satisfied customers say they have immense flexibility in rescheduling their monthly services, that their technicians are kind, responsive, and knowledgeable, and that the bugs have disappeared from their homes. Other clients report their technicians' diligence in following safety precautions, asking questions about recent pest activity, and giving advance notice of necessary additional visits.
Cost
Orkin only provides quotes over the phone. The company says each homeowner's pest situation is different, and therefore requires different treatment methods, which vary in cost.
For bed bug or termite infestations, a technician will need to visit your home to evaluate the extent of the problem before they can give you a quote.
However, they do offer a standardized general pest treatment plan consisting of seven visits during which they treat the inside and exterior perimeter of your home. This basic treatment costs $200 for the initial visit and then $47 per month after that. They also offer a quarterly treatment plan, which involves five visits over the course of the year, and one time service, which can vary in cost from about $275-$300.
For more intense infestations or more obscure pests, prices may vary.
FAQ About Pest Control
Is pest control safe for my pets?
It's recommended that people and animals avoid any treated areas until they're dry, which typically takes an hour or two. You don't even have to leave while the treatment is being applied.

Anything left over on your surfaces will be enough to kill insects without being toxic to people or animals. The pesticides are administered in extremely low concentrations, so it's unlikely you'd be exposed to anything harmful through the air.

If you want to know more, the Environmental Protection Agency has a handy and informative list of the Do's and Don'ts of Pest Control on the website.
How long will it take to see results?
The time it takes for a pest control treatment to take effect depends upon the pest in question and the extent of the problem. Sometimes follow-up visits are required. 

It's not uncommon for pest activity to increase after initial treatment, but this isn't (usually) a bad thing. It means that the pests' regular habits have been disrupted, causing them to explore new areas – but now, traps and pesticides have already been put in place.

Make sure you haven't left easy access to any new food sources for the pests, especially if your exterminators left out bait traps. If the pests are searching for food, you want them to be attracted to the bait, not your pantry.

What can you expect from a typical Orkin pest control visit?
The Orkin pest treatment approach has six steps:

1. Investigate: The first step is to thoroughly inspect your home, both interior and exterior, to identify current or potential pest problems.
2. Protect: Your Orkin technician will apply the appropriate materials to your property's perimeter and safely dispose of all accessible spiderwebs, wasp nests, etc.
3. Fortify: They then protect your home or business against any other would-be intruders by sealing off any possible entry points.
4. Keep Watch: An Orkin specialist will treat the inside of your home and install pest monitors in high-risk areas (kitchens, bathrooms, utility rooms, garages) to ensure the treatment is working.
5. Report: You will be given a detailed report of procedures used and advice to help keep your home pest free.
6. Follow Up: Orkin stays in touch with you between their regularly scheduled visits to respond to any immediate needs that may arise.
DIY Pest Control
There are some things you can do on your own to keep pests at bay.
Eliminating the conditions that attract pests is the first place. Best practices include removing easy access to food by keeping it in a sealed container, and eliminating possible areas of shelter by getting rid of clutter and sealing off places where pests might hide.
This approach, known as integrated pest management, focuses on making your home and lawn less attractive places for pests to live.
Pest Gnome's blog has much more info on managing pests, including those native to Atlanta:
How to Get Rid of Mosquitoes
How to Get Rid of Japanese Beetles in Your Yard
How to Get Rid of Ants in Your Home and Yard
Other National Pest Control Companies Serving Atlanta
You're a savvy consumer, so you will want to explore other Atlanta pest control companies before making a choice.
Check out these reviews on a few of the top companies serving the area:
When to Call a Pest Control Pro
Pest issues are universal, and Atlanta is indeed part of the universe. Keeping your home clean is the first line of defense, but bugs are everywhere. Orkin can help with basic pests, as well as more specialized home services.
Want to check local pest control providers? Pest Gnome makes it easy to find the best pest control pros near you. With a few clicks, you'll get quotes in minutes.
Pest Gnome participates in Orkin's affiliate program and may earn revenue from connecting you to Orkin for pest control.
Main Photo Credit: elliskj / Pixabay / License, with overlay created using Canva Pro
Max Bacall
Max Bacall used to pull weeds for his neighbors when he was young. These days, he freelances as a writer and as a production assistant in television. He can often be found hanging out with Planty, his potted aloe vera.