Terminix and Massey Services both offer essential pest management solutions for a wide variety of pests. How do you choose which company is right for you?
We dug deep to provide a comprehensive side-by-side comparison. We looked into factors like location, cost, services, reviews, and types of pests treated to help you make the best decision.
Terminix vs. Massey Services: Side-by-Side
Pests They Treat
| | | |
| --- | --- | --- |
| Pests | Terminix | Massey Services |
| Ants | ✓ | ✓ |
| Bed bugs | ✓ | ✓ |
| Beetles | ✓ | ✓ |
| Carpenter ants | ✓ | ✓ |
| Centipedes and millipedes | ✓ | ✓ |
| Cockroaches | ✓ | ✓ |
| Crickets | ✓ | ✓ |
| Earwigs | ✓ | ✓ |
| Fleas | ✓ | ✓ |
| Flies | ✓ | ✓ |
| Mites | ✓ | ✓ |
| Mosquitoes | ✓ | ✓ |
| Moths | ✓ | ✓ |
| Pantry pests | ✓ | ✓ |
| Rodents (mice, rats, etc.) | ✓ | ✓ |
| Scorpions | ✓ | ✓ |
| Silverfish | ✓ | ✓ |
| Spiders | ✓ | ✓ |
| Stinging pests (bees, wasps, etc.) | ✓ | ✓ |
| Stink bugs | ✓ | ✓ |
| Termites | ✓ | ✓ |
| Ticks | ✓ | ✓ |
| Wildlife | ✓ | ✗ |
Pricing
| | | |
| --- | --- | --- |
| Services | Terminix | Massey Services |
| Basic Pest Services | Starts at $45 per month | $30-$85 per month |
| Termite Prevention | Starts at $69 per month | N/A |
| Single Termite Treatment | N/A | $500-$1,200 |
| Mosquito Control | Starts at $69 per month | N/A |
| Single Treatment | $200-$400 | $200-$500 |
Main Features
| | | |
| --- | --- | --- |
| Feature | Terminix | Massey Services |
| How many states do they serve? | 45 (Excluding AK, MT, ND, SD, VT) | 7 (Including FL, GA, LA, NC, OK, SC, TX) |
| Service Plans Offered | | |
| One-time service? | ✓ | ✓ |
| Monthly service? | ✓ | ✓ |
| Quarterly service? | ✓ | ✓ |
| Offers eco-friendly options? | In some cases | ✓ |
| Does it serve commercial properties? | ✓ | ✓ |
| Customer Service | | |
| Gives instant quotes online? | ✓ | ✗ |
| Has an online portal for scheduling, billing, etc.? | ✓ | ✓ |
| 24/7 customer support? | ✓ | ✓ |
| Better Business Bureau rating | N/A | A- |
| Additional Services Offered | | |
| Attic insulation | ✓ | ✓ |
| Moisture control | ✓ | ✗ |
| Sanitation | Only available to commercial customers | Only available to commercial customers |
| Gutter guards | ✗ | ✗ |
| Lawn treatments for pests weeds, and diseases | ✗ | ✓ |
Terminix and Massey Services have risen through the ranks to become two of the top 10 largest pest control companies in the U.S. Both having decades of experience and a comprehensive list of pests they treat, choosing which company is best for you will come down to your location and the specialty services you need.
Massey Services operates in seven southern states while Terminix has a national presence in 45 states. Both companies use similar pest management approaches to reduce pesticide use and environmental impact.
Both Terminix and Massey Services offer multiple package options for treating a wide variety of pests. Terminix offers a convenient way for customers to get an online price quote and purchase basic services through its website. Massey Services requires a free inspection before giving a quote.
Both companies offer specialty services and home solutions including insulation installation and commercial sanitation. Additionally, Terminix offers moisture control services and wildlife control with exclusion. Massey Services offers a complete landscape service plan that includes fertilization, weed control, aeration, soil testing, outdoor pest control, and irrigation maintenance.
Your location and need for specialty services or a combination of services will play a large role in choosing the best company for you. If squirrels have taken up residence in your attic, Terminix has your answer. However, if you need a company that can treat all your indoor and outdoor pests while keeping your lawn lush and green, Massey Services will get the job done.
Terminix Highlights
Terminix began as a research laboratory in Memphis when it developed the first termiticide in 1927, an insecticide specifically for termites. It went on to become the first company to offer satisfaction-guaranteed annual termite contracts.
Terminix widened its focus toward full-service pest control and grew to operate over 300 locations across the United States. It now serves 50,000 customers daily and has a presence in 22 countries.
Global pest control company Rentokil is combining forces with Terminix in an acquisition that will allow both companies to better serve customers in the U.S. and abroad.
Nix Pest Guarantee
Terminix specializes in customized treatment plans through its Integrated Pest Management (IPM) approach. IPM combines pesticides, traps, and baits to treat the pest's whole environment. Each plan consists of targeted solutions that minimize environmental harm, reducing the risks to children, pets, and beneficial pollinators.
Terminix's on-staff entomologists focus research on long-term prevention solutions aiming to provide 365 days of protection for customers. Each plan is backed by Terminix's Nix Pest Guarantee. If pests return in between your scheduled treatments, Terminix will re-treat the area for free.
Going Green
Terminix is slow to adopt natural pest control solutions for many of its services, but the company is focused on green efforts and sustainability. Terminix has reduced its annual greenhouse emissions over the last three years and remains committed to doing so now and in the future.
In 2021, Automotive Fleet magazine named Terminix the fourth-best U.S. company for green vehicles. To date, more than 60% of its 11,000-vehicle fleet is a certified green vehicle. Terminix's 2021 report details its continued environmental commitment toward more sustainable business practices.
Terminix is GreenPro certified. Its eco-friendly services include:
Natural liquid and granular mosquito and tick control
85% recycled insulation installation
Commercial EcoControl program to reduce pesticide use
Home Services
In addition to traditional treatments, several complementing whole-home options are available including insulation installation and crawl space moisture control. Commercial customers also have access to sanitation services.
Terminix's moisture control services prevent termite infestations, warped floorboard, wood rot, mold, fungus, and odors while reinforcing structural integrity.
Vapor barriers reduce moisture
Encapsulation prevents moisture and wood-destroying insects
Floor supports correct structural issues caused by water, moisture, or termites
Temp-Vents automatically reduce moisture and increase energy efficiency
Inadequate insulation can lead to drafts, cold floors, temperature fluctuations, and higher utility bills. Terminix's insulation can be installed alone or on top of existing insulation. It is:
Flame-retardant
Noise-reducing
Made from 85% recycled materials
ENERGY STAR certified
Termite Prevention
Terminix is an industry leader in termite research and is the first company to hold a termite control patent. Treating both drywood and subterranean termites, Terminix offers free inspections, monthly prevention packages, and intensive treatments.
Online Services
Terminix offers a convenient online portal where you can schedule treatments, update your account, and pay for your services. You have access to a chat interface and 24/7 customer support. Terminix also sends text alerts detailing arrival times and upcoming and completed services.
Terminix Pricing
Terminix provides convenient online instant quotes for most services. Pricing for specialty treatment options can vary based on your location, level of infestation, the size of your home, and the number of treatments required to resolve your problem.
Terminix's basic pest control plan starts at $45 per month, and single treatment options start at $199. They also offer monthly termite prevention and mosquito or tick control starting at $69 per month. Specialty options such as termite or bed bug treatments require a free inspection before a quote can be given.
How to Get an Instant Quote and Order Service from Terminix
Terminix offers instant quotes for most services. Termimix makes it easy to schedule a free inspection, receive an approximate price for quarterly or one-time services, and pay for your first service. There are two ways to receive a quote.
Step 1. Go to the main Terminix website and start by selecting the service that addresses your problem.
If You Need a Specialty Service
Some services say, "Schedule a Free Inspection." This just means instant quotes aren't available for this specialty service. To best serve you and eliminate your problem, technicians must complete a free inspection to estimate the cost accurately.
Step 2. If you selected a specialty service like rodent control, click "Schedule Free Inspection."
Step 3. Next, enter your address and contact information. Check that you agree to be contacted by Terminix and click "Continue to Schedule."
Step 4. Here, you will see a calendar of dates and times. Select the option that works best for your schedule and click, "Submit." You can expect to receive a call from your local representative confirming your free inspection.
If You Need Basic Pest Control
Step 2. If you select a basic service like pest control, you can choose between service types and billing options. Select your desired pest control frequency.
Step 3. Enter your address to receive your personalized price estimate.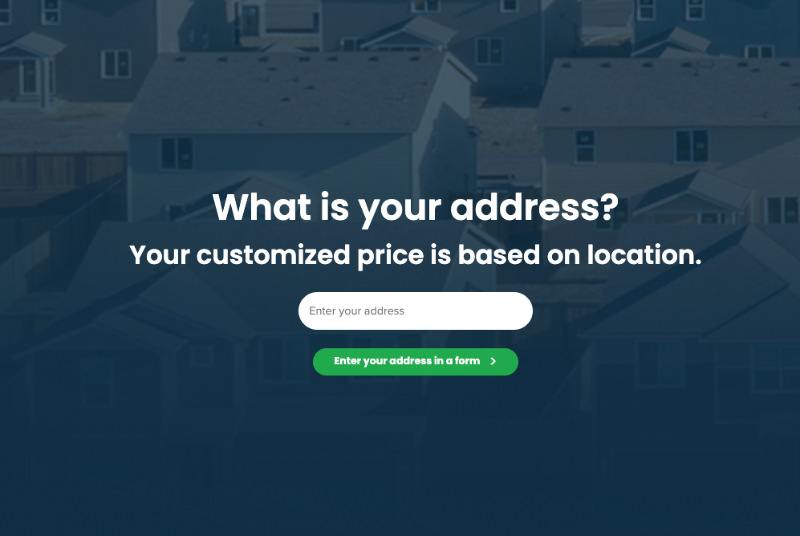 Step 4. Here, you have the option of selecting a one-time or quarterly service. Terminix's quarterly service plans offer two billing options, quarterly and monthly.
Select your service and click "Add to Cart" followed by "View Cart."
The prices shown below are based on pest control services for a Central Texas address. These prices will vary based on your location.
Step 5. Next, you can choose whether you wish to add additional specialty services such as mosquito or tick control. You are presented with your initial service fee, a one-time charge, along with your ongoing service fee based on your monthly or quarterly selection.
Step 6. Once you have made your decisions, click "Continue to Checkout."
Step 7. Here, you can complete your purchase and schedule your first service.
Customer service is available 24/7 to answer any questions you may have before making your selections. Additionally, you can find answers to common questions via the chat feature on Terminix's homepage.
States Covered: 45; not available in AK, MT, ND, SD, VT
Pests Covered: Ants, bed bugs, beetles, carpenter ants, centipedes, millipedes, cockroaches, crickets, earwigs, fleas, flies, mites, mosquitoes, moths, pantry pests, rodents, scorpions, silverfish, spiders, stinging pests, stink bugs, termites, ticks, wildlife
Pros:
90+ years of experience
Location availability
Employed entomologists
Nix Satisfaction Guarantee
Free inspections
Cons:
Franchise model can lead to service variations
Limited natural options
Account portal outages
Difficult cancellation process
Customer Reviews:
Great communication via text: "Terminix's service has been reliable. They always text me to let me know it is time for my services. The communication with the technician is great." – Christy, Consumer Affairs
Get the job done: "The technicians send a text message ahead of time to let me know when they will be arriving. They also ask if I have been experiencing any issues that should be addressed. On the day of service, they let me know they are on their way. Right after the job is completed, I receive an email with their findings." – Marie A., Google
Convenient online scheduling: "My house and yard are bug-free thanks to Terminix. Recently, my attic became a mouse house. They came out quickly to handle the infestation. I enjoy being able to use the online interface to schedule services." – Justin H., Yelp
Massey Services Highlights
Massey Services, prominent in the Southern United States, was founded in 1985 by former Orkin vice president Harvey Massey.
The company has since grown to more than 175 locations serving 800,000 customers. It is the largest family-owned company in the pest control industry. Keeping it in the family, the founder's son, Tony Massey, was appointed CEO in 2021.
Customized Services
Massey Services' approach eliminates the conditions, avenues, and sources of pest activity. Each service is backed by a 30-day guarantee and customized to your home. After each service, technicians note changes and adjust your program to provide the most comprehensive service available.
Massey Services' quarterly pest control is a five-step prevention program that includes:
Performing interior and exterior inspections
Treating infestations with limited pesticide use
Identifying problem areas to customize your treatment plan
Inspecting and sealing all entry points
Preventing future infestations with exterior barrier sprays
GreenUP Landscape Service
Massey Services offers customized, eco-friendly landscape services to reduce noise and air pollution, minimize heat buildup, decrease water waste and runoff, and increase nutrient absorption. The service includes:
Free inspection and customized plan
Outdoor pest control and prevention
Weed control
Disease treatments to prevent fungus
Annual aeration service
Fertilization treatments
Soil testing
Mowing and pruning recommendations
Irrigation Maintenance
Poor irrigation can lead to increased insect activity, weeds, and disease. Massey Services trains irrigation specialists to install, repair, and maintain your sprinkler system. Its Irrigation Maintenance program reduces up to 30% of water waste.
The service includes:
Regular inspections to detect leaks, blockages, and damaged parts
Routine sprinkler head clearing
Pattern adjustments
Discounts on repairs
Environmental Stewardship
Massey Services combines traditional pesticide use with innovative, eco-friendly techniques to preserve natural resources and reduce pesticide dependence. The company's efforts have been recognized by the Environmental Protection Agency and the Council for Sustainable Florida.
Massey Services has been committed to the environment since the early 1990s. Their GreenUP landscape services – including weed control, fertilization, and soil testing – focus on environmentally-friendly solutions. Additionally, they offer eco-friendly pre- and post-construction treatment programs to prevent termites.
Online Account Management
Massey Services provides an online portal where you can manage your account, pay your bill, review your service history, contact customer service, and schedule treatments. iPhone users have further account access through the My Massey App. The company also offers 24/7 emergency phone support.
Massey Services Pricing
Due to customized variations in treatment options, Massey Services does not offer price quotes online or over the phone. Instead, they offer free inspections with written estimates.
Pricing for their services is determined by the size of your property, the severity of your infestation, the type of infestation, and your location. Basic pest control services range between $30 to $85 per month. Single treatment options start at $200, and termite treatments start at $500.
How to Get Quote and Order Service from Massey Services
Massey Services' online form makes getting in contact with a local representative fast and easy.
Step 1. Clicking "Schedule Now!" or "Schedule Your Free Inspection" will bring you to an online form where you can request a callback to schedule your free inspection.
Step 2. Here, you will provide basic contact information.
Step 3. A local representative will contact you. It's best to have some basic information ready to provide such as the size of your house, the type of pests you are dealing with, and whether you have children or pets.
The more information you can provide before your inspection, the more thorough your technician can be.
States Covered: 7; FL, GA, LA, NC, OK, SC, TX
Pests Covered: Ants, bed bugs, beetles, carpenter ants, centipedes, millipedes, cockroaches, crickets, earwigs, fleas, flies, mites, mosquitoes, moths, pantry pests, rodents, scorpions, silverfish, spiders, stinging pests, termites, ticks
Pros:
Free inspections
Extended outdoor services
24/7 account access
iPhone app
Free corrective treatments
Cons:
Limited location availability
Inspections needed for price quotes
Customer Reviews:
They know pests: "I am so glad I switched from another company. I had termite services performed while I was waiting for my contract to end with the other company. The technician was very informative and explained the process of pest prevention. There is so much work that goes into it." – Lynda R., Yelp
Above and beyond: "The technicians were courteous and professional. They explained the benefits of the products they are using and how long they will last. They also gave us advice on what to do to prevent termites and other pests. They always go above and beyond." – Claudia J., Google
Informative resources: "I had someone from Massey Services come to my house to give me some information regarding termites. The technician was very honest and gave me a lot of helpful information.." Stephanie R., BBB
Buyers Guide to Choosing Between Terminix and Massey Services
Terminix and Massey Services offer a complete list of pest control treatments including home solutions and specialty options. With both offering customized treatment plans, consider the following factors when making your decision.
Your Location
First, determine whether Terminix or Massey Services serves your area.
Terminix: Operates in 45 states with more than 300 U.S. locations
Massey Services: Has more than 175 locations across seven states
Pests Covered
Next, ensure the company treats the pest you are dealing with.
Terminix: Treats all types of pests and wildlife
Massey Services: Treats all types of common household pests but does not offer wildlife control services
Eco-Friendly Options
Terminix and Massey Services both offer eco-friendly pest control options. Speak with your local representative to find out what options are available in your area.
Terminix: Member of U.S. Green Business Council, GreePro and QualityPro certified
Massey Services: Green-focused since the early 1990s with an emphasis on water conservation and diminished pesticide use
Customer Testimonials
Popular review sites like Google, Nextdoor, Yelp, Consumer Affairs, and Trustpilot can give you an honest look inside Terminix and Massey Services.
Terminix: Customers enjoy receiving text alerts and having instant access to online service reports and scheduling. They don't love the difficult cancellation process and long callback waiting times.
Massey Services: Customers rave about the consistent, outstanding customer service they receive and knowledgeable technicians. Customers say they could do without the pushy sales tactics the company often uses.
Cost
Prices are based on several factors including location, infestation type, necessary treatments, property size, and location.
Terminix: Basic pest control plans start at $45 per month. Termite prevention and mosquito or tick control packages start at $69 per month. One-time treatments start at $199. All inspections are free and services are guaranteed with free retreatments for most plans.
Massey Services: The basic pest prevention program costs between $30 to $85 per month. It includes general pest control, inspections, and a free re-service guarantee. Specialized treatments, exterior pest control, and lawn services cost extra. Single treatment options start at $200, and termite treatments cost between $500 to $1,200.
FAQ About Pest Control
Do I really need pest control?
Quarterly pest control treatments can save you money. They offer peace of mind and can stop an infestation before it becomes a problem. Technicians are trained to identify and act at the first signs of pest activity. Year-round pest control protects your health and reduces your likelihood of costly home repairs.
My house is clean, so why do I see bugs?
A clean and clutter-free home is a great way to prevent a variety of pests, but it doesn't work on all of them. Some pests — like termites and carpenter ants — are drawn to specific environments that have nothing to do with dark, damp hiding spots or leftover food crumbs. Similarly, bed bugs will inhabit a home no matter the condition so long as it has a fresh supply of humans.
There are many reasons pests may be attracted to your home, and they don't all have to do with its cleanliness. Quarterly pest prevention plans, along with a tidy home, can help you remain pest-free all year.
Is DIY pest control a good idea?
There is no shortage of DIY pest control methods. Generally, these methods work best for small infestations and non-wood-boring insects. DIY methods are not safe for pests at risk of carrying disease or for those that cause structural damage. Pest control technicians are trained to treat the root cause of the infestation, saving you time and money.
DIY Pest Control
Ingredients for salad dressing or homemade insecticide? Some pests can be safely handled at home using DIY methods straight from your pantry. Check out Pest Gnome's helpful resources.
Here are some articles to get you started:
The Limits, Dangers of DIY Pest Control
Other National Pest Control Companies to Consider
It is important to evaluate different options before committing. Check out these other large pest control companies.
Orkin vs. Rentokil
Orkin vs.Truly Nolen
Terminix vs. Aptive Environmental
When to Call a Pest Control Pro
DIY pest control can be time-consuming and a bit overwhelming. If you are seeking a long-term solution, your best bet is to hire a pest control company. Call a professional from Terminix or Massey Services to take the pest problem off your hands.
Pest Gnome participates in Terminix's affiliate program and may earn revenue from connecting you to Terminix for pest control.
Main Photo by Erik Karits on Unsplash with text and logo overlay
Kimberly Magerl
Born and raised in Springfield, Illinois, Kimberly Magerl enjoys growing fruits and vegetables in her garden. When she isn't gardening, Kimberly enjoys trying new recipes and cooking with her home-grown herbs.