When you see an army of ants marching through your pantry, it's time to form a plan of attack. Call in reinforcements with Terminix in Tampa so they can eliminate the army and provide a solid defense against future attacks.
When hiring any company for any service, you probably have a lot of questions. This breakdown of Terminix's services, costs, quotes, and reviews for Tampa is designed to help you make an educated decision so you can give those intruders the boot.
Terminix Tampa at a Glance
Pests They Treat
| | |
| --- | --- |
| Pest | Terminix Tampa |
| Ants | ✔ |
| Bed bugs | ✔ |
| Beetles | ✔ |
| Carpenter ants | ✔ |
| Centipedes and millipedes | ✔ |
| Cockroaches | ✔ |
| Crickets | ✔ |
| Earwigs | ✔ |
| Fleas | ✔ |
| Flies | ✔ |
| Mites | ✔ |
| Mosquitoes | ✔ |
| Moths | ✔ |
| Pantry pests | ✗ |
| Rodents (mice, rats, etc.) | ✔ |
| Scorpions | ✔ |
| Silverfish | ✔ |
| Spiders | ✔ |
| Stinging pests (bees, wasps, etc) | ✔ |
| Stink bugs | ✔ |
| Termites | ✔ |
| Ticks | ✔ |
| Wildlife | ✔ |
Pricing
| | |
| --- | --- |
| Service | Terminix Tampa |
| Basic Pest Services | $43/month |
| Termite Treatment | $69/month |
| Bed Bug Treatment | Schedule an inspection |
| Single Treatment | $299 |
Main Features
| | |
| --- | --- |
| Feature | Terminix Tampa |
| Service Plans Offered | |
| One-time service? | ✔ |
| Monthly service? | ✔ |
| Quarterly service? | ✔ |
| Offers eco-friendly options? | Commercial only |
| Does it serve commercial properties? | ✔ |
| Customer Service | |
| Gives instant quotes online? | ✔ |
| Has an online portal for scheduling, billing, etc.? | ✔ |
| 24/7 customer support? | ✔ |
| Free inspections? | ✔ |
| Better Business Bureau rating | NR |
Other Terminix Tampa Services
Moisture Control
Terminix protects your home from water intrusion, mildew, mold, fungi, and pests with its crawl space services. Wet and rotting wood attracts destructive pests like termites.
Terminix offers four options to protect your crawl spaces:
Vapor barriers: Barriers applies to the soil in your home's crawl space
Encapsulation: Barrier to protect wood from structural damage
Floor supports: Helps correct problems caused by water, moisture and termites
Ventilator system: Barrier placed on your foundation to reduce crawl space moisture and increase energy efficiency
Mosquito Control
Tampa has all the conditions to attract mosquitoes – hot weather, humid temps, and moisture – so having a way to keep those biting pests at bay is important. Mosquitoes can be a health risk by spreading viruses and parasites to both humans and pets.
Terminix offers a mosquito treatment to reduce the mosquito population and protect your home and yard. They thoroughly inspect to identify mosquito breeding grounds. Terminix also offers a natural liquid and granular treatment outdoors to create a barrier against mosquitoes.
Wildlife Removal
If your lights are flickering and you're not in the middle of a crazy Florida afternoon thunderstorm, you may have another problem on your hands – critters chewing your electrical wires.
Terminix offers wildlife removal service where they identify animal intruders, devise a treatment plan to get rid of them, and seal off access points to prevent them from coming back.
Terminix wildlife removal covers:
Flying squirrels
Groundhogs
Mice
Opossums
Pigeons
Raccoons
Rats
Sparrows
Starlings
Tree squirrels
Attic Insulation
With Tampa being warm year-round – and sweltering in the summer – cutting the A/C bill is a priority. Terminix's attic insulation can help reduce your energy costs.
Insulation wears out over time. Terminix can install new insulation over existing insulation or on its own. Many utility companies, including Duke Energy, provide rebates for attic insulation upgrades.
Terminix's attic insulation is:
Made from 85% recycled materials
ENERGY STAR certified
Flame retardant
Able to reduce outside noise
Terminix Tampa Highlights
Integrated Pest Management
Pesticides can negatively impact the environment. Terminix uses a combination of traps, baits, and pesticides to reduce the risk to children, pets, and pollinators. Their Integrated Pest Management approach focuses on long-term prevention techniques that minimize environmental impact.
Expertise and Experience
Terminix was founded in 1927 and was the first company to develop termiticide, an insecticide specifically for termites.
Since then, they have become an international pest control company with a patented treatment plan against drywood termites, which are a problem in the Tampa Bay area. They also specialize in subterranean termites – which love the city's hot and humid conditions – and Formosan termites.
Customer Service
Terminix customers have 24/7 customer support by phone and through an online chat feature. Customers also have access to a convenient online billing portal where they can schedule services and make changes to their accounts. Also, Terminix offers service and technician text alerts where customers can be notified of upcoming and completed treatments.
How to Get a Quote and Order Service Online
Terminix offers instant quotes for most services. They make it easy to schedule a free inspection, receive an approximate price for quarterly or one-time services, and pay for your first service. There are two ways to receive a quote.
Step 1. Go to the main Terminix website and start by selecting the service that addresses your pest problem.
If You Need a Specialty Service
Some services say, "Schedule a Free Inspection." This just means instant quotes aren't available for this specialty service. To best serve you and eliminate your problem, technicians must complete a free inspection to estimate the cost accurately.
Step 2. If you selected a specialty service like rodent control, click "Schedule Free Inspection."
Step 3. Next, enter your address and contact information. Check that you agree to be contacted by Terminix and click "Continue to Schedule."
Step 4. Here, you will see a calendar of dates and times. Select the option that works best for your schedule and click, "Submit." You can expect to receive a call from your local representative confirming your free inspection.
If You Need Basic Pest Control
Step 2. If you select a basic service like pest control, you can choose between service types and billing options. Select your desired pest control frequency.
Step 3. Enter your address to receive your personalized price estimate.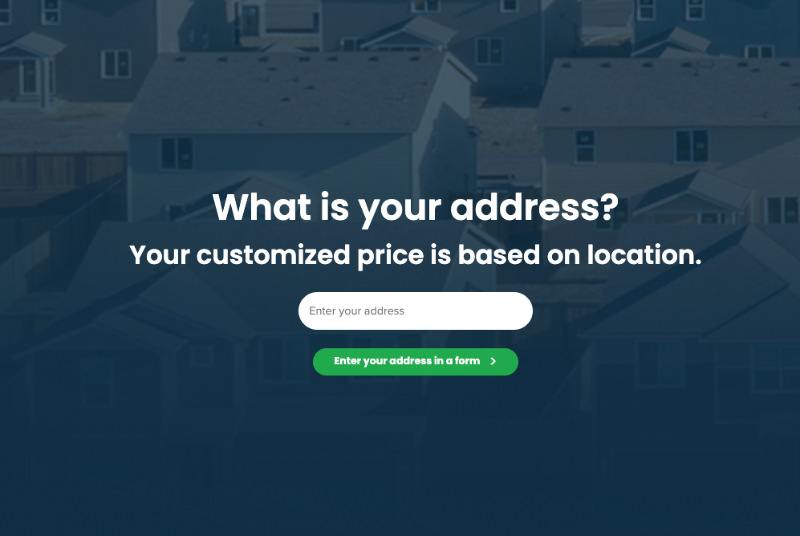 Step 4. Here, you have the option of selecting a one-time or quarterly service. Terminix's quarterly service plans offer two billing options, quarterly and monthly.
Select your service and click "Add to Cart" followed by "View Cart."
Step 5. Next, you can choose whether you wish to add additional specialty services such as mosquito or tick control. You are presented with your initial service fee, a one-time charge, along with your ongoing service fee based on your monthly or quarterly selection.
Step 6. Once you have made your decisions, click "Continue to Checkout."
Step 7. Here, you can complete your purchase and schedule your first service.
Terminix in Tampa Customer Reviews
Hear what customers had to say about Terminix in Tampa:
Professional technicians: "Having used the company for years, the technician has always been on time, informative, friendly and full of helpful information." – Julie Beeghley, Google
Good customer service: "The services I ordered went very well. The treatments were done on separate days by different people. Both employees made contact prior to the appointments and showed up on time and were both very professional." – Christopher S., Angi
Miscommunication in the quote process: "We were given misinformation. Unfortunately, it was verbal and there was no phone or paper trail to confirm this, so the company has sided with the sales rep." – Lindsey L., Yelp
Pros:
Decades of experience
National reach
On-staff entomologists
Satisfaction guarantees
Free inspections
Cons:
Franchise model variations
Limited eco-friendly options
Unreliable account portal
Difficult cancellation process
Buyers Guide to Choosing a Pest Control Company in Tampa
There are a lot of things to consider when choosing any home service. Cost, experience, response speed, and customer satisfaction are all important factors. Here's a quick overview of these aspects of Terminix Tampa.
Your Location
There are three locations to serve homes and businesses in the Tampa/St. Petersburg/Clearwater area. The central location – Terminix Tampa – serves Hillsborough and Pasco counties.
Terminix Termite & Pest Control Tampa
4306 North 56th Street
Tampa, FL 33610
863-563-9229

Terminix Largo (Clearwater and St. Petersburg)
8040 Bryan Dairy Road. Suite C
Largo, FL 33777
863-400-6954

Terminix Termite & Pest Control New Port Richey
7734 Rutillio Court, Suite A
New Port Richey, FL
863-777-8496
Pests Covered
It's important to know the company you choose can eliminate the pests you have. If it crawls or flies, Terminix Tampa has a solution.
Most common Tampa pests Terminix treats:
In addition to common household pests, Terminix offers specialized termite control for drywood, Formosan, and subterranean termites. Treatments are also available for German cockroaches and Argentine ants.
Experienced techs also handle rodents, including mice and wildlife invaders.
Eco-Friendly Options
Terminix focuses on effective elimination practices by implementing Integrated Pest Management. They focus on long-term prevention practices that pose minimal environmental impact.
For their commercial clients, Terminix offers the EcoControl program which focuses on safe and effective treatments for large properties.
Customer Testimonials
The best way to know about a company's service is to get testimonials or read reviews on sites like Google, Yelp, Trustpilot or the Better Business Bureau.
Clients in the Tampa Bay area speak highly of the company's technicians who come to your home. The most common concern of Terminix clients focuses on scheduling appointments and getting in touch with the company. There are also several criticisms regarding the company's termite inspection and treatment.
Cost
Cost can be the deciding factor on any service, especially one that may involve ongoing treatment like pest control.
For a one-time application of pesticide targeting the 13 most common household pests, Terminix Tampa customers will pay $299. Quarterly treatments are priced at $139, or $556 annually.
Other services are priced based on the type of pest and the extent of the infestation. Pests such as bed bugs and termites require a free inspection in order to receive a quote. Inspections can be scheduled online or by calling the local office.
For seniors and veterans receiving quarterly treatments, Terminix offers a 10% discount.
FAQ About Pest Control
What if I don't know what pests are causing the issues?
If you are unsure about the type of pest infestation, or you are concerned about the extent of it, an inspection is the best way to go.

Having a professional pest control company visit your property will allow them to assess what issues are present and how best to deal with them.

How long do professional pest control products last?
Most treatments last between 30 and 90 days, which is why many customers opt for regular treatments instead of one-time services. With Florida's year-round warmth, most bugs require continual treatment.
What safety measures do I need to take?
Most bugs aren't anything more than annoying. Some, however, can pose more serious issues. To be safe, you want to strive for cleanliness, especially where children and pets are concerned. 

If you are applying DIY solutions, follow all package instructions carefully. Keep children and animals away from fresh applications.

Any professional services that require particular caution will be accompanied by specific instruction. Be sure to understand and follow the advice of your technician.

DIY Pest Control
There are a lot of things you can do yourself to mitigate a pest issue. Whether you have just a few annoying ant mounds, or you want to get started before the professional's appointment, you have options.
Your local garden center will offer a host of chemical options. For small or occasional issues, these remedies are effective and affordable.
If you're looking for chemical-free methods, you need to identify the types of bugs plaguing you. There are many DIY mixtures, plants, and exclusionary practices that will mitigate your pest problem without undue harm.
Here are some of the most common issues Tampa residents are wondering about:
How to Remove Love Bugs
How to Get Rid of Mosquitoes
Other National Pest Control Companies Serving Tampa
Check out what the other major players offer:
When to Call a Pest Control Pro
Call in the troops when you have a seasonal pest or a serious infestation. We recommend using professional services like Terminix in Tampa if you have a large problem, an issue that's beyond your skill, or a specific situation that causes added concern.
If you'd like to get quotes from other pest control companies in Tampa, Pest Gnome makes it easy. We connect you to the best pest control pros near you. With just a few clicks, you'll get quotes in minutes.
Pest Gnome participates in Terminix's affiliate program and may earn revenue from connecting you to Terminix for pest control.
Main photo credit: Jeremy Thompson / Flickr / CC BY 2.0
Editorial Contributors
Alison Hoover is a Midwesterner through and through, and loves to spend her time baking and reading. Always at home in the dirt, as a kid, Alison raised a vegetable garden with her dad, and flower gardens with her mom.

Learn more