The Battle of the Alamo may be history, but In San Antonio, there is still a daily Battle of the Bugs. Want to get rid of all the pests attacking your home? A pest control company like Terminix San Antonio can help.
Terminix is known for treating and controlling termites, but their services expand beyond termite control. We looked at various factors, such as services, pricing, quotes and customer reviews to help you decide if Terminix San Antonio is right for you.
Terminix San Antonio at a Glance
Pests They Treat
| | |
| --- | --- |
| Pest Treated (in alphabetical order) | Terminix San Antonio |
| Ants | ✔ |
| Bed bugs | ✔ |
| Bettles | ✔ |
| Carpenter ants | ✔ |
| Centipedes and millipedes | ✔ |
| Cockroaches | ✔ |
| Crickets | ✔ |
| Earwigs | ✔ |
| Fleas | ✔ |
| Flies | ✔ |
| Mites | ✔ |
| Mosquitoes | ✔ |
| Moths | ✔ |
| Pantry pests | ✔ |
| Rodents (mice, rats, etc.) | ✔ |
| Scorpions | ✔ |
| Silverfish | ✔ |
| Spiders | ✔ |
| Stinging pests (bees, wasps, etc.) | ✔ |
| Stink bugs | ✔ |
| Termites | ✔ |
| Ticks | ✔ |
| Wildlife | ✔ |
Pricing
| | |
| --- | --- |
| Service | Terminix San Antonio |
| Basic Pest Services | $39.67 per month |
| Termite Treatment | As low as $69 per month |
| Bed Bug Treatment | Requires an inspection |
| Single Treatment | $249 |
Main Features
| | |
| --- | --- |
| Feature | Terminix San Antonio |
| Service Plans Offered | |
| One-time service? | ✔ |
| Monthly service? | X |
| Quarterly service? | ✔ |
| Offers eco-friendly options? | ✔ |
| Does it serve commercial properties? | ✔ |
| Customer Service | |
| Gives instant quotes online? | ✔ |
| Has an online portal for scheduling, billing, etc.? | ✔ |
| 24/7 customer support? | ✔ |
| Better Business Bureau rating | N/A |
Other Terminix San Antonio Services
Crawl Space Services
The Terminix experts not only find and fix moisture problems, but they also provide four preventative services.
Encapsulation is a protective moisture barrier to help prevent wood-destroying threats.
Terminix's Floor Support System corrects issues caused by water, heat, moisture damage, and termites.
Temp-Vent is a foundation ventilator system that opens and closes to reduce moisture in your home's crawl space while also increasing your home's energy efficiency.
Vapor Barriers are moisture-proofing barriers placed in the soil to prevent water and moisture from causing wood rot.
Wildlife Removal
Everyone in Texas knows that it's not just insects that can infest your home. Wildlife will use every trick in the book to find a way to take refuge in your home. Protect your precious property with the expertise of Terminix's wildlife exterminators. They will not just protect your home but also offer wildlife removal of:
Snakes
Mice
Rats
Bats
Raccoons
Squirrels
Opossums
Groundhogs
Skunks
Armadillos
Birds
Attic Insulation
Terminix attic insulation service experts will install efficient cellulose insulation between attic joists or on top of your existing insulation. Their Energy Star-certified insulation is perfect for protecting your home from our unrelentingly harsh summer heat as well as frigid winter temps.
Terminix San Antonio Highlights
Headquartered in Memphis, Terminix offers services in 47 states to more than 50,000 homes and businesses daily. Terminix exterminators offer customers the expertise that can only be learned through decades of experience. They also offer commercial services if you are looking to protect your business from infestations.
What sets Terminix apart from other pest control companies?
95 Years of Experience
Terminix was founded in 1927 by E.L. Bruce, the owner of a hardwood flooring company. Bruce had been searching for a method to protect his wood flooring from termite damage. He had a breakthrough when his senior chemist, Frank Lyons, developed the first termiticide, an insecticide designed specifically to kill termites.
State-of-the-Art Website
Terminix launched an all-new web experience at the end of 2021. The new mobile-friendly site allows current and potential customers to explore termite and other pest control options and to quickly purchase them online. On the new website, customers can view and pay their bills, learn about various pests and the damage they cause, and read about general pest control information.
Specializes in Termites
Unfortunately, we tend to see a lot of termite activity in Texas. Luckily the San Antonio Terminix branch offers the OnGuard Termite Protection System.
The system includes a free inspection to check for signs of past or present subterranean termites. Then their expert professionals will customize a treatment plan and strategically install termite bait stations in the ground around your home. The service also includes yearly inspections to monitor the bait stations for signs of activity. In the event termites reenter your home after treatment, Terminix will return to attack the little beasts at no additional cost.
How to Get an Instant Quote and Order Service Online
Terminix offers instant quotes for most services. They make it easy to schedule a free inspection, receive an approximate price for quarterly or one-time services, and pay for your first service. There are two ways to receive a quote.
Step 1. Go to the main Terminix website and start by selecting the service that addresses your pest problem.
If You Need a Specialty Service
Some services say, "Schedule a Free Inspection." This just means instant quotes aren't available for this specialty service. To best serve you and eliminate your problem, technicians must complete a free inspection to estimate the cost accurately.
Step 2. If you selected a specialty service like rodent control, click "Schedule Free Inspection."
Step 3. Next, enter your address and contact information. Check that you agree to be contacted by Terminix and click "Continue to Schedule."
Step 4. Here, you will see a calendar of dates and times. Select the option that works best for your schedule and click, "Submit." You can expect to receive a call from your local representative confirming your free inspection.
If You Need Basic Pest Control
Step 2. If you select a basic service like pest control, you can choose between service types and billing options. Select your desired pest control frequency.
Step 3. Enter your address to receive your personalized price estimate.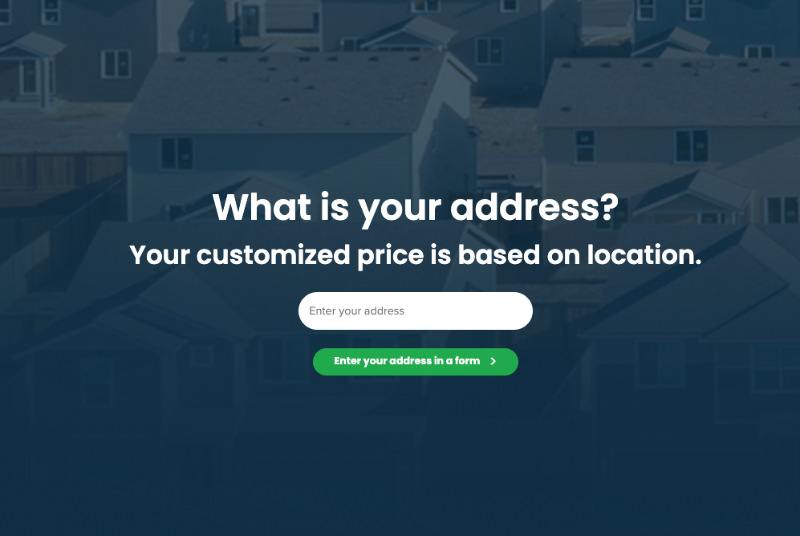 Step 4. Here, you have the option of selecting a one-time or quarterly service. Terminix's quarterly service plans offer two billing options, quarterly and monthly.
Select your service and click "Add to Cart" followed by "View Cart."
The prices shown below are based on pest control services for a Central Texas address. These prices will vary based on your location.
Step 5. Next, you can choose whether you wish to add additional specialty services such as mosquito or tick control. You are presented with your initial service fee, a one-time charge, along with your ongoing service fee based on your monthly or quarterly selection.
Step 6. Once you have made your decisions, click "Continue to Checkout."
Step 7. Here, you can complete your purchase and schedule your first service.
Customer service is available 24/7 to answer any questions you may have before making your selections. Additionally, you can find answers to common questions via the chat feature on Terminix's homepage.
Terminix San Antonio Customer Reviews
Hear what Terminix customers in San Antonio have to say:
Thorough on tracking down pests: "Always full of solutions. Each time they come out, they take care of the problem, and it's free for them to perform followup services. They never miss a thing. They catch all the wasp nests, even the ones that are really high, which most companies won't even touch. They also leave giving you solutions such as, 'make sure you put down weatherstrip.' They also obviously take great care of their employees because we have had the same guy for years." – Joanna H., Yelp
Technician goes above and beyond: "We can always count on Terminix services to mitigate and eliminate our unwanted pests. Our service tech explained everything in detail to us on what he was going to do. Upon completion, [our technician] explained what we needed to do to ensure our pest treatment did not harm our pets. He then provided us with his contact information to call him if we had a question or needed a followup." – Eric Bodenhausen, Google
Out for money: "Not recommended. They are salespeople who steal your money big time. Do not get fooled by them. They lie, cheat and steal your money. That's what they're about. They will charge you if you sneeze, even if you are careful. I was fooled once. I lost lots of money to this company and will lose more until I am able to cancel the service." – Margie Guevara, Google
Buyers Guide to Choosing a Pest Control Company in San Antonio
San Antonio
Slow down and do your homework. Get quotes from a couple of companies. Look for both quality as well as value.
There is one branch that serves both residential and commercial customers in San Antonio:
Terminix San Antonio
10022 I-35 N, 78233
San Antonio, TX 78233
210-598-8531
Pests Covered
When calling to make an appointment for an estimate, verify that they can treat the pest you have and those native to the area.
Terminix treats some of the biggest pests in San Antonio, including:
Eco-Friendly Options
When getting estimates ask about low-toxicity options and reducing environmental risks. See the EPA's Tips for Selecting a Pest Control Service for how to choose an environmentally safe service to rid your home of common household pests.
Terminix uses Integrated Pest Management, which combines traditional sprays with eco-friendly baits and traps.
Customer Testimonials
Visit Yelp, Google, or Facebook to read customer reviews. Take note of a pattern with good or bad reviews.
Terminix San Antonio reviews contradicted each other. There were many positive reviews on their professionalism and punctuality, but there were also many customers who were critical about professionalism and punctuality.
Cost
Most companies offer free estimates. Get quotes from multiple companies and compare services and prices.
The national average national cost for one-time treatment is $390, while monthly service cost between $40-$70 per visit.
Terminix's prices are slightly below the average, with single treatments costing $249 and monthly visits starting at just over $39 a month.
FAQ About Pest Control
What should I do if I have insects in my house?
Insects are attracted to a multitude of things in your home so don't hesitate to call your local Terminix specialist sooner rather than later. Typically, the earlier you can treat an infestation, the easier it is to get under control.
How does pest control work?
Terminix uses Integrated Pest Management, which combines chemical and non-chemical solutions for your home in order to ensure the best possible outcome. 
Is it worth getting pest control?
Pest control is worth the expense because it helps maintain safe and healthy homes. In some cases, it also can protect the home from damage, such as when termites undermine a home's foundation.
Terminix's pest control service covers these 13 common pests:

• Cockroaches
• Ants
• Spiders
• Rats 
• Mice
• Wasps
• Centipedes
• Millipedes
• Clothes moths
• House crickets
• Silverfish
DIY Pest Control
Do your homework before attempting DIY pest control. First, make sure you have properly identified the pest. It won't do any good if you are treating cockroaches when the home invader is an Asian beetle. And whatever you do, DO NOT mix your own "recipe," as it can be very dangerous mixing chemicals.
Other National Pest Control Companies Serving San Antonio
Aptive Environmental Pest Control in San Antonio
When to Call a Pest Control Pro
Looking for a company that specializes in making unwanted creatures history?
Then don't let those unwanted guests create their own version of The Alamo in your home. Call Terminix in San Antonio for a one-time pest control treatment as well as ongoing quarterly treatments to make sure the little buggers don't come back.
If you'd like to get quotes from several San Antonio pest control companies, Pest Gnome makes that easy. We connect you to the best pest control pros near you. With a few clicks, you'll get quotes in minutes.
Main Image from Ken Lund by Flickr with text and logo overlay / CC BY-SA 2.0
Amy Adams
Amy Adams is a freelance writer and former newspaper journalist. She grew up in Kansas but has been living in Florida for the past 15 years and has no intentions of ever moving back!