Dallas is the place for barbeque, Tex-Mex, and frozen margaritas. But unfortunately, despite all of its perks and unique charm, the city is a hotspot for bugs, especially cockroaches and ants. Terminix in Dallas can eliminate those big bugs before they walk away with your taco.
If you've been dealing with a bug problem in your home, you'll need an experienced exterminator. We researched several factors of Terminix in Dallas, including what pests they exterminate, where they're located, and how to get quotes and pricing so you can decide if it's the right pest control company for you
Terminix at a Glance
Pests They Treat
| | |
| --- | --- |
| Pest | Terminix Dallas |
| Ants | ✔ |
| Bed bugs | ✔ |
| Beetles | ✔ |
| Carpenter ants | ✔ |
| Centipedes and millipedes | ✔ |
| Cockroaches | ✔ |
| Crickets | ✔ |
| Earwigs | ✔ |
| Fleas | ✔ |
| Flies | ✔ |
| Mites | ✗ |
| Mosquitoes | ✔ |
| Moths | ✔ |
| Pantry pests | ✗ |
| Rodents (mice, rats, etc.) | ✔ |
| Scorpions | ✔ |
| Silverfish | ✔ |
| Spiders | ✔ |
| Stinging pests (bees, wasps, etc.) | ✔ |
| Stink bugs | ✔ |
| Termites | ✔ |
| Ticks | ✔ |
| Wildlife | ✔ |
Pricing
| | |
| --- | --- |
| Service | Terminix Dallas |
| Basic Pest Services | $39.67 per month |
| Termite Prevention Treatment | Starts at $69 per month |
| Single Termite Treatment | N/A |
| Mosquito Control | Starts at $69 per month |
| Bed Bug Treatment | N/A (Free inspection) |
| Single Treatment | $249 |
Main Features
| | |
| --- | --- |
| Feature | Terminix Dallas |
| Service Plans Offered | |
| One-time service? | ✔ |
| Monthly service? | ✔ |
| Quarterly service? | ✔ |
| Offers eco-friendly options? | ✔ |
| Does it serve commercial properties? | ✔ |
| Customer Service | |
| Gives instant quotes online? | ✔ |
| Has an online portal for scheduling, billing, etc.? | ✔ |
| 24/7 customer support? | ✔ |
| Better Business Bureau rating | N/A |
Other Terminix Dallas Services
Attic Insulation
Good insulation doesn't just help beat the blistering Dallas heat; it also prevents pests and keeps your utility bill from skyrocketing.
After a free attic inspection, Terminix in Dallas will reinforce your existing insulation and fill in any gaps with their cellulose insulation that is ENERGY STAR certified, flame retardant, noise reductive, and made from 85% recycled materials.
Moisture Control
A damp crawl space is a perfect sanctuary for pests, especially roaches. As nice as it would be for them to just stay there and not enter your house, they will eventually find their way inside.
Terminix in Dallas offers a crawl space service that fights against mold, mildew, fungus, and water damage. This treatment minimizes the risk of a pest infestation and protects your home's foundation from rot. Their moisture-control techniques include vapor barriers, encapsulation, ventilator systems, and floor supports.
Fire Ant Control
Fire ants are named for their fiery red color and painful sting that leaves you with burning, itchy red bumps. Fire ants can even cause an allergic reaction that requires immediate medical attention.
Fire ants are a common problem in Dallas, which is why Terminix provides efficient and regular treatment against the bitey little buggers. Fire ant bait is used to regularly target mounds throughout your lawn and keep the ants to a minimum.
Terminix Dallas Highlights
Termite Specialization
Terminix was founded by the owner of a hardwood flooring company that developed the first termiticide to "nix the termites" that were damaging his wood flooring. Terminix was the first company to offer a termite protection contract with annual inspections and a guarantee.
Dallas is home to subterranean termites, which nest in soil, and drywood termites, which nest in wood. Terminix in Dallas offers an exclusive, patented treatment against the drywood termites that make their way into your home, attic, and furniture. They also specialize in subterranean termites, which are the most common termite threat in the U.S.
Affiliated with Associations
Terminix is affiliated with 16 different associations and organizations, including:
Texas Pest Control Association
U.S. Green Building Council
GreenPro
National Pest Management Association, Inc.
Expertise
Terminix has been in the pest control industry since 1927. Since then, they have engineered several innovative new technologies and pest control products. In addition, they've authored scientific publications and lectured to scientific and community groups internationally.
How to Get an Instant Quote and Order Service Online
Terminix offers instant quotes for most services. They make it easy to schedule a free inspection, receive an approximate price for quarterly or one-time services, and pay for your first service. There are two ways to receive a quote.
Step 1. Go to the main Terminix website and start by selecting the service that addresses your problem.
If You Need a Specialty Service
Some services say, "Schedule a Free Inspection." This just means instant quotes aren't available for this specialty service. To best serve you and eliminate your problem, technicians must complete a free inspection to estimate the cost accurately.
Step 2. If you selected a specialty service like rodent control, click "Schedule Free Inspection."
Step 3. Next, enter your address and contact information. Check that you agree to be contacted by Terminix and click "Continue to Schedule."
Step 4. Here, you will see a calendar of dates and times. Select the option that works best for your schedule and click, "Submit." You can expect to receive a call from your local representative confirming your free inspection.
If You Need Basic Pest Control
Step 2. If you select a basic service like pest control, you can choose between service types and billing options. Select your desired pest control frequency.
Step 3. Enter your address to receive your personalized price estimate.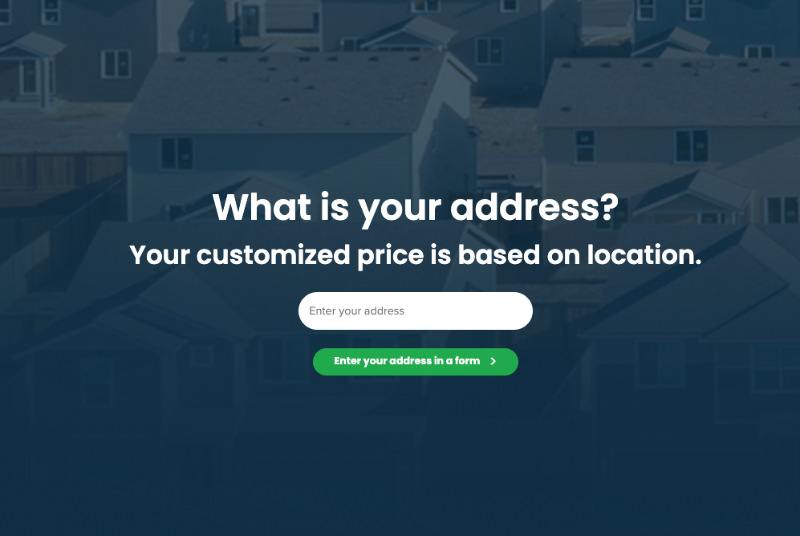 Step 4. Here, you have the option of selecting a one-time or quarterly service. Terminix's quarterly service plans offer two billing options, quarterly and monthly.
Select your service and click "Add to Cart" followed by "View Cart."
The prices shown below are based on pest control services for a Central Texas address. These prices will vary based on your location.
Step 5. Next, you can choose whether you wish to add additional specialty services such as mosquito or tick control. You are presented with your initial service fee, a one-time charge, along with your ongoing service fee based on your monthly or quarterly selection.
Step 6. Once you have made your decisions, click "Continue to Checkout."
Step 7. Here, you can complete your purchase and schedule your first service.
Customer service is available 24/7 to answer any questions you may have before making your selections. Additionally, you can find answers to common questions via the chat feature on Terminix's homepage.
Terminix Dallas Customer Reviews
Hear what customers had to say about Terminix in Dallas:
Pest problem was not resolved: "I do not like giving negative reviews, but we've had such an awful experience with Terminix. We initially signed up during a promo for $99. We've had to call back for three more treatments, and we STILL have bees, spiders, ants, and plenty of millipedes. We will have to try to find another pest company as we are currently having issues with bugs. So disappointed!" – Laurin H., Google
Prompt and reliable service: I have been renewing my contract with Terminix for many years. The techs are always prompt, polite, personable, and professional. I have been pest-free since they started taking care of my home…. I initially hired them because of a major infestation and they came back weekly until it was resolved. I am impressed with their ability to respond with a cool, calm, compassionate demeanor in dealing with a frantic and panicked homeowner. I am hooked!- Mary Sue S., Yelp
Technician was a no-show: "Worst company ever. I paid to have my house sprayed quarterly. I had to call them after 10 days because nobody ever called to set up an appointment. The day came for them to treat my house, and they never showed up. I called to find out why they didn't show, and they had no idea why. I set up another appointment, and they didn't show up for that one either. I would NOT recommend this company to anyone." – Ralph B., Better Business Bureau
Pros:
Decades of experience
National reach
On-staff entomologists
Satisfaction guarantees
Free inspections
Cons:
Franchise model variations
Limited eco-friendly options
Unreliable account portal
Difficult cancellation process
Buyers Guide to Choosing a Pest Control Company in Dallas
Your Location
Make sure the company provides pest control services in your Dallas neighborhood. Terminix in Dallas has four locations to serve the Dallas area:
Terminix Richardson
401 International Pkwy, Suite 104
Richardson, TX 75081
469-765-0694
Terminix Farmers Branch
12901 Nicholson Rd, Suite 260
Farmers Branch, TX 75234
945-800-6856
Terminix Plano
608 Development Drive, Suite 100
Plano TX 75074
972-528-5377
Terminix Arlington
3217 West Pioneer Pkwy
Arlington, TX 76013
682-681-1523
Pests Covered
Does the service provider you're considering cover the common pests in your area? Terminix in Dallas exterminates all of your household pests, including:
Eco-Friendly Options
What green alternatives do local pest control companies use, if any? Most services proudly advertise their eco-friendly pest control solutions on their website, and Terminix in Dallas is no exception.
They offer an EcoControl treatment option for commercial clients that includes the use of essential oils and traps.
Customer Testimonials
Some of the most honest evaluations of a company are from past customers on review sites like the Better Business Bureau, Yelp, Trustpilot, and Google. Their hands-on experience with a pest control company should provide helpful insight into whether this company fits your needs.
The reviews for Terminix in Dallas express that the pest control technicians are courteous and helpful but that the company itself is difficult to communicate with.
Cost
Price is probably the biggest deciding factor on hiring a pest control company. In Dallas, general pest control, on average, costs $44-$71 a month, or $270-$480 a year.
Terminix in Dallas provides pest control services at $39.67 a month or $249 for a one-time service. They offer free quotes, free inspections, and $50 off the initial service for veterans and seniors.
FAQ About Terminix
Does Terminix offer free inspections and quotes?
Initial pest control and termite inspections are free. They also provide free estimates and quotes before you move forward with a potential treatment plan.
Will Terminix provide mosquito treatment for my outdoor event?
Once you provide Terminix's information to the venue director, they will discuss the best time to provide mosquito treatment for your outdoor event.
How does Terminix treat bed bugs?
Terminix will give you a free home inspection and identify where your bed bugs are located. They will then offer you a customized treatment plan tailored to your needs. This treatment includes heat, steam, vacuuming, trapping monitors, or a non-toxic solution that freezes the bed bugs.
DIY Pest Control
Are you confident you can tackle your pest problems on your own? Here are some DIY pest control tips and tricks to help you on your way.
Other National Pest Control Companies Serving Dallas
Should You Choose Terminix in Dallas?
If you are plagued by termites, then the company that designed a patented treatment for termites is a great option. Terminix in Dallas exterminates common household pests, too, including bed bugs, cockroaches, and ants. And if you have forest critters finding their way into your house, Terminix removes them, too.
Do you want to see what other companies offer before making a decision? Then, check out Pest Gnome's ranking for the 9 Best Pest Control Companies. If you want to get quotes from several local pest control companies, Pest Gnome makes it easy to connect with the best pest control companies in Dallas. With just a few clicks, you'll get quotes in minutes.
Pest Gnome participates in Terminix's affiliate program and may earn revenue from connecting you to Terminix for pest control.
Main Image Credit: Sportstock / Canva Pro / License with Text Overlay
Lydian Pine
Lydian Pine is a creative writer and studio artist whose work first debuted in a short story anthology. She graduated from the University of North Texas in 2020 and enjoys video games, theatre, and swimming. Lately, she has started to study entomology as a hobby.