Chrysanthemums are more than decorative autumn flowers. These plants contain a natural defense compound, pyrethrin, that can be extracted and used for everyday pest control. Companies like Aptive Environmental and Truly Nolen are harnessing the insect-defending power of pyrethrins to protect your home from unwanted pests while remaining safer for your family and pets.
How do you choose which eco-friendly company is right for you? We dug into the offerings of both companies and examined factors like location, cost, pests treated, services, and customer reviews to help you make an informed decision.
Aptive Environmental vs. Truly Nolen: Side-by-Side
Pests They Treat
| | | |
| --- | --- | --- |
| Pests | Aptive Environmental | Truly Nolen |
| Ants | ✓ | ✓ |
| Bed bugs | ✗ | ✓ |
| Beetles | ✓ | ✓ |
| Carpenter ants | ✗ | ✓ |
| Centipedes and millipedes | ✓ | ✓ |
| Cockroaches | ✓ | ✓ |
| Crickets | ✓ | ✓ |
| Earwigs | ✓ | ✓ |
| Fleas | ✓ | ✓ |
| Flies | ✗ | ✓ |
| Mites | ✓ | ✓ |
| Mosquitoes | ✓ | ✓ |
| Moths | ✓ | ✓ |
| Pantry pests | ✓ | ✓ |
| Rodents (mice, rats, etc.) | ✓ | ✓ |
| Scorpions | ✓ | ✓ |
| Silverfish | ✓ | ✓ |
| Spiders | ✓ | ✓ |
| Stinging pests (bees, wasps, etc.) | ✓ | ✓ |
| Stink bugs | ✓ | ✓ |
| Termites | ✗ | ✓ |
| Ticks | ✓ | ✓ |
| Wildlife | ✗ | Birds Only |
Pricing
| | | |
| --- | --- | --- |
| Service | Aptive Environmental | Truly Nolen |
| Basic Pest Services | Starts at $45 per month | $45-$75 per month |
| Termite Treatment | Does not treat | N/A |
| Single Treatment | Does not offer | $300-$400 |
Main Features
| | | |
| --- | --- | --- |
| Feature | Aptive Environmental | Truly Nolen |
| How many states do they serve? | 32 (Excluding AL, AR, CT, DE, HI, LA, ME, MS, MT, NH, NM, ND, SC, SD, VT, WV, WY) | 16 (Including AZ, CA, FL, GA, KY, NV, NJ, NM, NY, NC, OH, PA, SC, TN, TX, UT) |
| Service Plans Offered | | |
| One-time service? | ✗ | ✓ |
| Monthly service? | ✗ | ✓ |
| Quarterly service? | ✓ | ✓ |
| Offers eco-friendly options? | ✓ | ✓ |
| Does it serve commercial properties? | ✓ | ✓ |
| Customer Service | | |
| Gives instant quotes online? | ✗ | ✓ |
| Has an online portal for scheduling, billing, etc? | ✓ | ✓ |
| 24/7 customer support? | ✓ | ✓ |
| Better Business Bureau rating | A+ | A+ |
| Additional Services Offered | | |
| Attic insulation | ✗ | ✓ |
| Moisture control | ✗ | ✗ |
| Sanitation | ✗ | ✓ |
| Gutter guards | ✗ | ✗ |
| Lawn treatments for pests weeds, and diseases | ✗ | Only available in FL |
Aptive Environmental and Truly Nolen have made sustainable, eco-friendly pest control part of their everyday business practices. If safe pest control is your biggest priority, choosing between these two Top 15 companies comes down to availability and your unique needs.
Aptive Environmental may be the new kid on the block, but its rapid growth has led to a presence in 5,000 cities across 32 states while longtime player Truly Nolen only serves 16 states.
Both companies place families at the center of everything they do. Their Integrated Pest Management approaches treat the whole pest environment through a combination of pesticides, traps, and baits. These environmentally-focused methods ensure maximum safety for your family and pets.
Aptive Environmental and Truly Nolen treat only the necessary areas inside your home. They use naturally derived pesticides called pyrethrins. Pyrethrins are the safest available pesticides on the market and are permitted for use on organic farms.
Truly Nolen treats all types of pests and offers customers access to bed bug treatments, bird control, single treatment options, and additional services such as sanitation, insulation installation, and exterior weed and pest control for Florida residents. Aptive Environmental treats a large list of pests with the exclusion of wood-boring insects, flies, and wildlife.
If you are looking to rid your home of termites or have a chattering squirrel infestation, Truly Nolen is the company for you. However, up-and-coming Aptive Environmental can take care of your pest control needs inside and out too, offering mosquito control as part of its recurring services.
Aptive Environmental Highlights
Entering the most competitive pest control market in the world, Aptive Environmental was founded in Los Angeles in 2015. Entrepreneurs Vess Pearson and David Royce set out on a mission to make homes more protected and more enjoyable.
Aptive Environmental has become quite the success story. In 2021 and for the third consecutive year, the company brought home three Stevie® Awards at the 19th Annual American Business Awards®. It won gold in the "Fastest Growing Company" and "Company of the Year-Business & Professional Services (Large)" categories.
This unprecedented growth also landed it on Inc. magazine's annual 5,000 lists. The company now serves nearly 5,000 cities in 32 states and continues to grow.
Customized Safeguards
Aptive Environmental customizes each quarterly pest control plan to protect your home from insects harboring harmful bacteria and disease. Its naturally derived treatments and Integrated Pest Management Approach (IPM) provide year-round protection and immediate relief.
Combining a defensive, long-term approach with targeted treatments, baits, and traps, IPM treats the whole pest ecosystem while reducing the risk to children, pets, and the environment. Aptive Environmental's Four Seasons Protection Plan includes:
Free full inspection
Treatment of all home areas including basements, crawl spaces, and finished attics
On-demand services
Free retreatments in between scheduled visits
From 3,000-Year-Old Flower to Insecticide
Aptive Environmental takes its commitment to the environment seriously. Landing in the top spot on Ladders' list of the 10 most environmentally friendly companies in the U.S., it continually works toward creating happier and healthier homes for its customers.
Aptive Environmental uses only naturally derived treatments certified by the EPA to be safe for children, pets, and the environment. The treatments contain pyrethrin, a natural pesticide derived from chrysanthemums. Dating back to 1000 BC, pyrethrins are certified for use in organic gardening and farming.
United to Beat Malaria
Customer comfort and peace of mind are Aptive Environmental's top priority. The company strives to protect homes and create a safer environment, even to those around the world. This is why Aptive Environmental supports the United Nations Foundation's "United to Beat Malaria" campaign.
The campaign provides insecticide-treated bed nets to millions of refugees across Africa. Aptive Environmental has donated over $1.1 million to help protect over 400.000 women and children since 2017.
Pest Portal
Aptive Environmental provides 24/7 customer support along with convenient text alerts detailing upcoming services and arrival times. Customers have access to an online portal where they can schedule services, update account information, pay bills, chat with customer service, and schedule on-demand treatments.
Aptive Environmental Pricing
Aptive Environmental supports the extermination of 47 common pests. Each plan is customized to your unique needs. Prices are calculated based on location, home size, and level of infestation. You can obtain a quote by submitting a request through Aptive's website or by phone at (888) 505-5773.
How to Get a Quote and Order Service from Aptive Environmental
Aptive Environmental does not offer instant quotes, however, they make it easy to contact a local representative or schedule an inspection.
Step 1. Go to the main Aptive Environmental website and start by clicking "Get a Quote" or "Buy Online."
Note that both options require speaking to a representative over the phone to request an inspection, order, or begin service.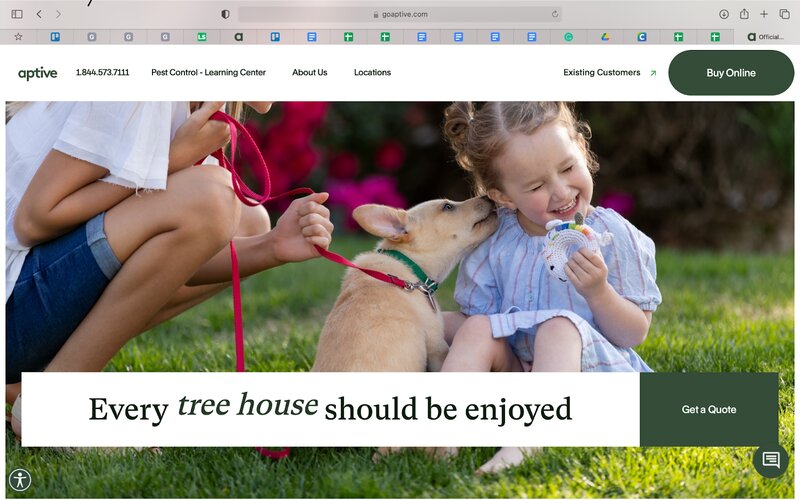 Step 2. Start by selecting the pest you are dealing with. Enter your basic contact information and a promo code if you have one.
Step 3. You can expect a sales representative to contact you shortly, or you can also get a quote by calling (888) 505-5773.
States Covered: 32; not available in AL, AR, CT, DE, HI, LA, ME, MS, MT, NH, NM, ND, SC, SD, VT, WV, WY
Pests Covered: Ants, bed bugs, beetles, carpenter ants, centipedes, millipedes, cockroaches, crickets, earwigs, fleas, flies, mites, mosquitoes, moths, pantry pests, rodents, scorpions, silverfish, spiders, stinging pests, stink bugs, ticks
Pros:
Natural treatment solutions
Free retreatments
24/7 customer support
Text alerts
Cons:
No whole-home solutions
Does not treat wood-boring insects
No wildlife exclusion services
Contract options only
Customer Reviews:
Amazing communication: "Aptive has a very professional team of service technicians that notify you the week of your service. They also let you know that they are on the way and are very courteous when they arrive. They do very thorough work. After each service, they provide a service report and survey of their work. Their price is also reasonable and very competitive." – David C., Facebook
Thoroughly explained treatment: "I was texted before the technician's arrival. He did a thorough job inspecting our property. He also explained the process and products he would be using. He completed the service in a very professional manner." – Ken M., Google
Love the on-demand service: "I have had a wasp building a nest under my awnings in different locations. Aptive has been great about responding to my service requests and getting someone out to handle the problem every time. I think the on-demand service is a great value for the price." – Dean M., Yelp
Truly Nolen Highlights
Truly Nolen is a family business at its core. Founded by Truly Wheatfield Nolen in 1938, the company's roots in sanitation and rodent extermination date back to the Great Depression. A true team, father and son duo Truly Wheatfield and Truly David Nolen combined forces and entomological research to form Truly Nolen of America Inc. in 1966.
The three-generation Miami business grew to operate in more than 65 countries around the world. It is one of the largest pest control companies in the U.S., serving 16 states with 100 locations.
The company continues to foster the family atmosphere and sense of community created by its founders. Truly Nolen is involved with organizations such as Rotary clubs, schools, and nonprofits. Group volunteering, STEM classes, charity events, and fundraisers have all become a frequent part of the company culture.
Treat and Prevent
Backed by more than 80 years of experience, Truly Nolen offers general services and specialized treatments for more than 100 different pests. Its Integrated Pest Management (IPM) approach treats the entire pest lifecycle and habitat to ensure long-term results.
IPM seeks to minimize pesticide use by combining traditional treatments with baits and traps making it safer for children, pets, and beneficial insects. Truly Nolen's Four Seasons Pest Control program treats and prevents 15 common pests. Consisting of quarterly treatments, each plan is designed around your unique climate and seasonal needs.
Four Seasons Pest Control includes treatment and prevention for the following pests:
Ants
Beetles
Boxelders
Caterpillars
Crickets
Earwigs
Fleas
Mice
Millipedes
Roaches
Scorpions
Silverfish
Spiders
Ticks
Wasps
Green and Natural
Truly Nolen's ongoing entomological research continues to perfect its environmentally-friendly pest control treatments. Its naturally occurring products are used whenever possible. To increase eco-friendliness, the company regularly modifies technician protocols to adapt to changes in pest behavior, climate, and treatment options.
Truly Nolen's commitment to the environment also extends to its everyday business practices. It continues to reduce its paper use, consume less fuel in the famous fleet of yellow mouse cars, and modify other efficiency factors.
My Service Account
Truly Nolen aims to offer a 24-hour response time to all inquiries. The company even offers Saturday and evening availability in most areas. It provides 24/7 customer support by phone. Customers have access to an online portal where they can schedule services, update their account information, and pay their bills.
Home Solutions
Truly Nolen offers several whole-home solutions. Its newest edition, Truly Sanitized, provides sanitation and disease prevention to homes and businesses. It effectively disinfects, sanitizes, and eliminates viruses, including COVID-19, on all non-porous surfaces. Residual applications for continued protection for up to 90 days are also available.
Lawn treatments are offered to Florida residents consisting of soil, pest, plant, and climate analyses to create customized treatment plans. Additionally, Truly Nolen offers insulation installation. Truly Insulation Plus works in attics, crawl spaces, and under flooring. It combines high-grade insulation with naturally occurring minerals and materials to provide:
Temperature regulation
Fire retardation
Pest prevention
Decreased noise transmission
Truly Nolen Pricing
Truly Nolen offers instant online quotes for recurring and one-time services. Some specialized services require a free inspection before an accurate quote can be given. Each service is customized to your needs.
Prices vary based on the size of your home, your location, the degree of your infestation, and the types of treatments needed to resolve your problem. Truly Nolen's Four Seasons Pest Control package starts at $45 per month. One-time treatments start at $299.
Discounts are offered for senior citizens, military personnel, and first responders.
How to Get an Instant Quote and Order Service from Truly Nolen
Truly Nolen's online estimator makes it easy to purchase their preventative pest control package or a single intensive treatment.
Step 1. Start by clicking on "Free Estimate" or use the drop-down menu to select your problem pest and click "Get an Estimate."
Step 2. Next, enter your contact information, the approximate square footage of your home, and your ZIP code.
Step 3. Here, you will see your monthly price estimate along with the total due. You have the option to "Start Service" for the Four Seasons Pest Control or a one-time intensive treatment.
The below estimate is based on a 2,000-square-foot Arizona home.
Step 4. Lastly, enter your home address and review your billing plan before completing your purchase. Here, you can enter information about your pest problem.
A local representative will contact you to arrange an inspection and your first service. Large infestations may be subject to additional charges upon inspection.
States Covered: 16; AZ, CA, FL, GA, KY, NV, NJ, NM, NY, NC, OH, PA, SC, TN, TX, UT
Pests Covered: Ants, bed bugs, beetles, carpenter ants, centipedes, millipedes, cockroaches, crickets, earwigs, fleas, flies, mites, mosquitoes, moths, pantry pests, rodents, scorpions, silverfish, spiders, stinging pests, stink bugs, termites, ticks, birds
Pros:
80+ years of experience
Environmentally-friendly
Money-back guarantee
On-staff entomologists
State-of-the-art training and research facility
Cons:
Limited availability
Pricey one-time services
No online chat
Customer Reviews:
Complete coverage: "Truly Nolen has flexible policies and reasonable prices. We're very satisfied with the services they have been providing. Whenever we need additional services, Truly Nolen has us covered. We appreciate that the company has pet-friendly options." – B MT., Google
Fast service: "Big-headed ants welcomed me to Florida with open arms. I contacted Truly Nolan, and within 24 hours, my technician arrived to advise me of the next steps. To say she was thorough would be an understatement. She went above and beyond. No question went unanswered. The next day Truly Nolen performed my first treatment." – Monica G., Yelp
Focus on preventative measures: "In the process of remodeling our home, we found previous termite damage. Technicians came out the same day to see if there were any active termites. They put a plan in place to prevent future damage. We appreciate their attention to detail." – Glenda T., Facebook
Buyers Guide to Choosing Between Aptive Environmental and Truly Nolen
Both Aptive Environmental and Truly Nolen use naturally occurring treatments and Integrated Pest Management approaches. Examine the following factors to help you make your decision.
Your Location
First, check to ensure Aptive Environmental and Truly Nolen operate in your area.
Aptive Environmental: Serves 32 states operating in almost 5,000 cities
Truly Nolen: Serves over 150,000 customers in almost 100 locations in 16 states
Pests Covered
Next, consider the type of infestation you are dealing with.
Aptive Environmental: Does not offer bed bug or wood-boring insect treatments, fly control, or wildlife exclusion
Truly Nolen: Only offers wildlife support for birds
Eco-Friendly Options
Aptive Environmental and Truly Nolen take their commitments to the environment seriously. From charitable donations to naturally derived solutions, both companies work to remain green and increase sustainability. Talk with your local representative to learn about the options available in your area.
Aptive Environmental: Natural treatment options safe for pets, children, and the environment
Truly Nolen: Has been developing eco-friendly and natural solutions since the 1990s
Customer Testimonials
Be sure to check out popular review sites like Consumer Affairs, BBB, Trustpilot, Yelp, and Google to get an in-depth look into Aptive Environmental and Truly Nolen.
Aptive Environmental: Customers value the free on-demand services, informative text alerts, and comprehensive service reports. They could leave behind the pushy, door-to-door sales tactics. Some customers have experienced ineffective treatments and unannounced rate increases.
Truly Nolen: Customers love the 24-hour turnaround time, customized plans, and preventative methods. They criticize the sometimes ineffective treatments and difficult cancellation process.
Cost
Aptive Environmental and Truly Nolen customize plans to fit your unique needs.
Aptive Environmental: Quotes for quarterly pest control treatments can be obtained over the phone. Service starts at $45 per month. Prices vary based on your location, property size, and infestation level. Free on-demand services are provided in between scheduled treatments.
Truly Nolen: Four Seasons Pest Control packages cost between $45-$75 per month. This includes general pest control, inspections, and retreatments. Specialty options require a free inspection to quote. One-time treatments start at $299.
Discounts are available for senior citizens, military personnel, and first responders.
FAQ About Pest Control
Are pests dangerous?
Pests can cause structural damage to your home. Some can even pose numerous health threats. Rodents and cockroaches contain allergens that can trigger asthma while others can cause painful bites and stings. Many pests spread food-borne illnesses like salmonella and E. coli. Preventative pest control treatments can help you mitigate unwanted damage and potential health risks.
Are results guaranteed?
Most pest control companies offer some form of customer satisfaction guarantee. This guarantee can take many forms such as free re-service, a partial discount, or a refund. It is important to understand what your guarantee covers and how long it will last when selecting your pest control service company. 
Are treatments safe?
The health and safety of customers is a pest control company's top priority. The methods and chemicals they use are EPA-approved and applied by trained technicians to minimize risk to you and your family, furry or otherwise. 
DIY Pest Control
Vinegar is for more than salad dressing. Many pests can be treated using ingredients you already have at home.
Here are some valuable articles to get you started:
13 Plants that Repel Insects
The Limits, Dangers of DIY Pest Control
Other National Pest Control Companies to Consider
Icky, gross, and disease-carrying, a home is simply more inviting when it is pest-free. Be certain to weigh all your options before selecting the pest control company for you. Check out these other companies.
Orkin vs. Massey Services: Pest Control Companies Compared
When to Call a Pest Control Pro
Save the vinegar for your next lunch. Sometimes infestations are too big to handle on your own. Call a pest control professional from Aptive Environmental at (888) 505-5773 or Truly Nolen to treat and prevent unwanted visitors.
And if you'd like to consider more local pest control options, Pest Gnome makes it easy to connect with pest control pros near you. With just a few clicks, you'll get quotes in minutes. Soon your pest control problem will be solved.
Main Photo by Chris Curry on Unsplash with text and logo overlay
Kimberly Magerl
Kimberly Magerl is a writer and data analyst specializing in home improvement, DIY, roofing, and solar technologies. She enjoys growing vegetables in her garden, getting outdoors, and transforming her space with DIY projects. A resident of Texas, when she isn't gardening, Kimberly enjoys trying new recipes and cooking with her home-grown herbs.