North America is home to the world's largest pest control market. Aptive Environmental and Rentokil are two pest control companies that continue to grow rapidly across the U.S. How do you choose which growing company is right for you?
We compared important factors like location, cost, treated pests, service offerings, and customer reviews to help you make the best decision.
Aptive Environmental vs. Rentokil: Side-by-Side
Pests They Treat
| | | |
| --- | --- | --- |
| Pests | Aptive Environmental | Rentokil |
| Ants | ✓ | ✓ |
| Bed bugs | ✗ | ✓ |
| Beetles | ✓ | ✓ |
| Carpenter ants | ✗ | ✓ |
| Centipedes and millipedes | ✓ | ✓ |
| Cockroaches | ✓ | ✓ |
| Crickets | ✓ | ✓ |
| Earwigs | ✓ | ✓ |
| Fleas | ✓ | ✓ |
| Flies | ✗ | ✓ |
| Mites | ✓ | ✓ |
| Mosquitoes | ✓ | ✓ |
| Moths | ✓ | ✓ |
| Pantry pests | ✓ | ✓ |
| Rodents (mice, rats, etc.) | ✓ | ✓ |
| Scorpions | ✓ | ✓ |
| Silverfish | ✓ | ✓ |
| Spiders | ✓ | ✓ |
| Stinging pests (bees, wasps, etc.) | ✓ | ✓ |
| Stink bugs | ✓ | ✓ |
| Termites | ✗ | ✓ |
| Ticks | ✓ | ✓ |
| Wildlife | ✗ | ✓ |
Pricing
| | | |
| --- | --- | --- |
| Service | Aptive Environmental | Rentokil |
| Basic Pest Services | Starts at $45 per month | $50-$100 per month |
| Termite Treatment | Does not treat | $700-$1,500 |
| Bed Bug Treatment | N/A | $700-$1,500 |
Main Features
| | | |
| --- | --- | --- |
| Feature | Aptive Environmental | Rentokil |
| How many states do they serve? | 32 (Excluding AL, AK, AR, CT, DE, HI, LA, ME, MS, MT, NH, NM, ND, SC, SD, VT, WV, WY) | 46 (Excluding AR, HI, MT, ND) |
| Service Plans Offered | | |
| One-time service? | ✗ | ✓ |
| Monthly service? | ✗ | ✗ |
| Quarterly service? | ✓ | ✓ |
| Offers eco-friendly options? | ✓ | ✓ |
| Does it serve commercial properties? | ✓ | ✓ |
| Customer Service | | |
| Gives instant quotes online? | ✗ | ✗ |
| Has an online portal for scheduling, billing, etc? | ✓ | ✓ |
| 24/7 customer support? | ✓ | ✓ |
| Better Business Bureau rating | A+ | N/A |
| Additional Services Offered | | |
| Attic insulation | ✗ | Location-specific |
| Moisture control | ✗ | Location-specific |
| Sanitation | ✗ | Only available to commercial customers |
| Gutter guards | ✗ | ✗ |
| Lawn treatments for pests weeds, and diseases | ✗ | Available to commercial customers in all 46 states and residents of AZ and FL |
| Air purification | ✗ | ✓ |
| Handyman services | ✗ | Location-specific |
Over the last year, Aptive Environmental and Rentokil have both seen a 35% or more increase in profitable growth. Both companies are featured in the Top 10 on Pest Control Technology's Top 100 largest companies in the industry.
Choosing between these two companies comes down to your location, the value you place on environmentally-friendly products, and additional home services you may need. Aptive Environmental continues to grow and expand across the U.S., serving nearly 5,000 cities in 32 states while Rentokil operates in 46 states.
Both companies use a family-first Integrated Pest Management (IPM) approach to provide long-term prevention in an environmentally-responsible way. IPM consists of recurring services focused on treating the whole pest environment by combining pesticides, baits, and traps.
Both companies are environmentally-forward. Aptive Environmental treats only the necessary areas of a home and uses only natural pesticides. Similarly, Rentokil focuses on overall green business practices and actively works to reduce its pesticide use through targeted treatment strategies and combined solutions.
Both companies treat an extensive library of pests, however, Rentokil offers customers access to bed bug and wood-boring insect treatments and full wildlife control and exclusion services. Rentokil also offers intensive, one-time treatment options and, in many areas, insulation installation and moisture control.
If Mother Earth is your main concern, Aptive Environmental better aligns with your priorities. However, if termites are eating their way through your home, Rentokil has your answer.
Aptive Environmental Highlights
Relatively new to the pest control game, Aptive Environmental was founded in 2015 by entrepreneurs David Royce and Vess Pearson. Los Angeles-born, the company is on a mission to make homes more enjoyable and more protected.
Aptive Environmental is the fastest-growing pest control company in North America. Landing on Inc. magazine's annual 5,000 list, it has grown to serve nearly 5,000 cities in 32 states.
Service On-Demand
Aptive Environmental provides year-round protection with customized quarterly treatment plans. Its naturally-derived treatments and Integrated Pest Management approach are safe and effective. IPM combines a defensive, long-term approach with offensive tactics to treat the whole pest environment while minimizing risk to beneficial pollinators, children, and pets.
Aptive Environmental's year-round plan includes full inspection and treatment of all home areas that are safe to access including basements, crawl spaces, and finished attics. The plan also includes free on-demand services and retreatments if pests reappear in between your scheduled services.
Natural Pesticide
Aptive Environmental takes pride in creating happier and healthier homes while preserving the environment. It uses only eco-friendly, naturally-derived treatments. The treatments contain a natural pesticide synthesized from chrysanthemum flowers called pyrethrin which is safer for children, pets, and beneficial insects.
Conquering Malaria
Aptive Environmental strives to provide peace of mind to its customers. This core value extends beyond the company into the outside world. Aptive partners with the United Nations Foundation's "United to Beat Malaria" campaign to help provide insecticide-treated bed nets to millions of refugees across Africa. Since 2017, it has donated over $1.1 million to help protect over 400,000 people from the deadly disease.
Online Portal
Aptive Environmental provides an online portal where you can schedule services, update your account information, pay your bills, and schedule on-demand treatments. They also offer 24/7 customer support, text alerts, and a convenient chat feature located within your online account. You can call Aptive at (888) 505-5773.
Aptive Environmental Pricing
Aptive Environmental customizes each treatment plan to your unique needs. The plans can treat 47 common pests. Prices are calculated based on your location, the size of your home, and your level of infestation. Quotes can be obtained by submitting a request through Aptive's website or by phone.
How to Get a Quote and Order Service from Aptive Environmental
Aptive Environmental does not offer instant quotes, however, they make it easy to contact a local representative or schedule an inspection.
Step 1. Go to the main Aptive Environmental website and start by clicking "Get a Quote" or "Buy Online."
Note that both options require speaking to a representative over the phone to request an inspection, order, or begin service.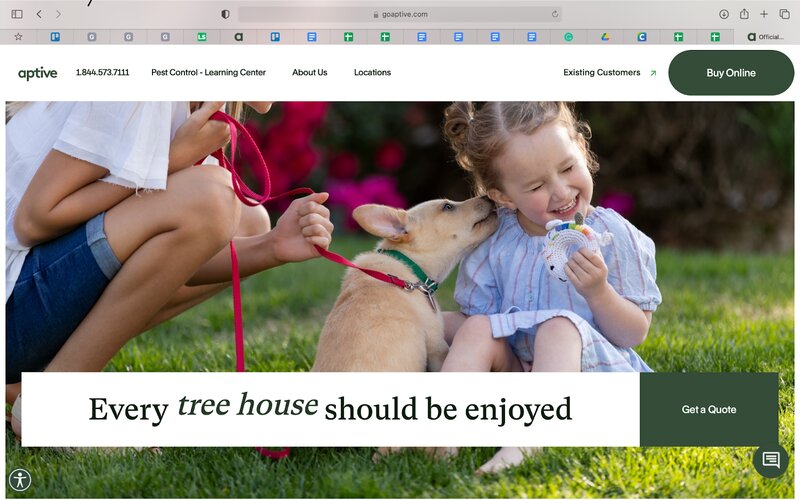 Step 2. Start by selecting the pest you are dealing with. Enter your basic contact information and a promo code if you have one. Click "Get a Quote."
Step 3. You can expect a sales representative to contact you shortly after submitting your information, or you can also get a quote by calling (888) 505-5773.
States Covered: 32; not available in AL, AK, AR, CT, DE, HI, LA, ME, MS, MT, NH, NM, ND, SC, SD, VT, WV, WY
Pests Covered: Ants, bed bugs, beetles, carpenter ants, centipedes, millipedes, cockroaches, crickets, earwigs, fleas, flies, mites, mosquitoes, moths, pantry pests, rodents, scorpions, silverfish, spiders, stinging pests, stink bugs, ticks
Pros:
Eco-friendly
Satisfaction guarantee
Free retreatments
Cons:
Aggressive sales tactics
No additional home services
Does not treat termites
No one-time services
Customer Reviews:
Free retreatments: "I love that Aptive will do retreatments for free. The technicians that I've had are always super nice and respectful. Scheduling service is a breeze. My yard and home are bug-free thanks to Aptive." – Victoria, B., Google
Thorough treatment: "The technicians always go above and beyond for our home. They even helped me discard an old water play toy that was attracting mosquitoes. They remove spider webs in the garage and always look for pest sources." – Laura S., BBB
Pet-friendly: "I have been using Aptive for almost a year now, and I am always more impressed each time. My technicians are knowledgeable and professional. I love Aptive because they use safe and environmentally-friendly products. I feel comfortable being home while they perform the services as well as having my pets around the sprays." – Tiffany W., Yelp
Rentokil Highlights
British Rentokil was founded in 1925 by an entomology professor and researcher looking to eliminate death watch beetles on his college campus. Supplying extermination services during World War II, Rentokil went on to become the world's largest pest control company and the third-largest in the U.S.
Rentokil operates in 80 countries and has locations spread across 46 states. The global company is in the process of finalizing an acquisition of Terminix to better serve customers in the U.S. and abroad with complementing services.
The company now owns and operates a family of brands in the U.S. including:
Comprehensive Protection Plan
Rentokil can customize treatment options to eliminate 36 common pests. Unlike most companies, its recurring PestFree365 plan includes annual termite inspections and mosquito and bed bug control. It focuses on both long-term prevention and immediate treatment of pests. PestFree365 includes:
Regular inspections
Unlimited retreatment services
Preventative services
Easy online scheduling
Flexible payment options
Green Pest Control
Rentokil's treatment options are not as eco-friendly as some companies, but it does its part to diminish pesticide use. Its Integrated Pest Management approach uses baits, traps, and targeted treatments to minimize environmental impact while providing long-term prevention and treatment.
Rentokil is GreenPro and QualityPro Certified and continually works to minimize its carbon footprint. It utilizes a set of sustainable principles to guide its pest control applications.
Inspect and determine the root cause of an infestation
Eliminate access points to keep pests out
Monitor for signs of trouble to keep problems from escalating
Reduce chemical sprays by using traps and baits
Target pesticides to necessary areas
Treat pests using heat, vacuums, steam, and more so prevention can take over
Additional Services
As one of the largest pest control companies in the world, Rentokil extends its services beyond traditional treatments. It offers comprehensive, industry-specific pest control to numerous sectors.
Rentokil provides customized disinfecting services, including eco-friendly solutions and access to drone disinfection, for large venues like sports arenas. Additionally, commercial customers have access to:
Air purification
Bioremediation
Fumigation
Heat treatments
Moisture control
Vegetation management
Exterior pest control
Lumnia light traps
PestConnect digital pest control systems
Specialty service options for homeowners include moisture control and insulation installation in many areas. Moisture control prevents pests, mildew, moisture damage, and fungi. Rentokil's options include:
Vapor barriers to prevent pests and reduce moisture
Temp-Vents® to automatically provide ventilation and control moisture
Dehumidifiers to minimize mold and mildew growth
Additional customized options like sand installation and fungus treatments
Rentokil's TAP insulation installation is more than just another method of pest defense. Thermal Acoustical Pest Control is installed by a certified specialist offering:
20%-40% reduction in heating and cooling bills
Optimal temperature regulation
Fire-retardant
Pest defense
Noise reduction
Energy Star-certified and made from 87% recycled materials
Can be installed alone or over existing insulation
Lifetime warranty
Online Account Management
Rentokil's commercial customers have access to myRentokil, a proprietary data management system that works in conjunction with its PestConnect digital pest control systems. Here, they can track recommendations and problem areas and produce full audit reports for their pest management solutions as well as access real-time information 24/7.
Residential customers also have access to an online portal, PestNetOnline, where they can manage their accounts, pay for their services, and schedule treatments. Rentokil's customer service is available 24/7, and they offer a convenient chat feature through their website.
Rentokil Pricing
Rentokil customizes its services to your unique needs requiring a free inspection before a quote can be given. Quarterly pest prevention and intensive one-time treatments offer flexibility. Each service is priced based on your location, the size of your house, the pest you are dealing with, and the number of treatments it will take to resolve your problem.
Rentokil's PestFree365 plan starts at $50 per month. Specialty options such as termite or bed bug treatments range between $700 to $1,500, depending on the severity of your infestation.
How to Get a Quote and Order Service from Rentokil
Rentokil does not offer instant online quotes. Their online form makes getting in contact with a local representative fast and easy.
Step 1. Start by visiting Rentokil's homepage. Here, you can fill out the brief contact form with your information. You will receive a phone call from a sales representative shortly.
Step 2. Clicking "Contact us" or "Get in touch" anywhere on Rentokil's website will also bring you to a more in-depth online form and Rentokil's phone number.
Step 3. Here, you will be asked to provide some basic information and your reason for contacting them. You can provide additional details regarding your infestation and select whether you would like to be called back or schedule a free inspection.
Step 4. Whichever option you select, you can expect a local representative to contact you shortly. Their ability to provide you with a quote over the phone will be based on several factors. Some infestations and additional services will require a free inspection to diagnose and quote.
States Covered: 46; not available in AR, HI, MT, ND
Pests Covered: Ants, bed bugs, beetles, carpenter ants, centipedes, millipedes, cockroaches, crickets, earwigs, fleas, flies, mites, mosquitoes, moths, pantry pests, rodents, scorpions, silverfish, spiders, stinging pests, stink bugs, termites, ticks, wildlife
Pros:
Decades of experience
Wide variety of additional services
24/7 customer service
Bed bug and mosquito control included in the quarterly package
Cons:
Inspection required for a price quote
Website difficult to navigate
Some services only available to commercial customers
Customer Reviews:
Mosquito treatment included: "Our technician has been taking care of us for years. He always calls before he arrives and performs expert service. Our package includes mosquito control which is great because we live out in the country. If we have a problem with pests in between treatments, our technician always promptly returns to handle the problem." – Nick, Consumer Affairs
Customized plan: "The technician came out to complete our inspection promptly. He assessed our problem and went over the plan to remove the bird's nest. We received our estimate quickly and were able to set up our appointment to have our problem addressed." – Sonya D., Google
Reduced pesticides: "We have been using Rentokil for a few years. The maintenance plan is reasonably priced. I love the reduced pesticide use." – Angela D., Yelp
Buyers Guide to Choosing Between Aptive Environmental and Rentokil
Both Aptive Environmental and Rentokil use Integrated Pest Management approaches to treat almost any pest that wanders into your home. Examine the following factors when making your decision.
Your Location
First, check to ensure Aptive Environmental and Rentokil serves your area.
Aptive Environmental: Serves almost 5,000 cities in 32 states
Rentokil: Operates a family of brands under Western Exterminator, Presto-X, and Ehrlich covering 46 states
Pests Covered
Next, consider the type of pest you are dealing with.
Aptive Environmental: Does not treat bed bugs, wood-boring insects, flies, or offer wildlife control
Rentokil: Treats all types of pests and wildlife
Eco-Friendly Options
Aptive Environmental and Rentokil have made environmental leadership a part of their corporate social responsibility. Speak with your local representative to learn more about the options available to you and how Integrated Pest Management is helping the environment.
Aptive Environmental: Uses naturally-derived pyrethrins that are safe for pets and children
Rentokil: GreenPro and QualityPro certified
Customer Testimonials
Popular review sites like Yelp, Trustpilot, Google, Consumer Affairs, and BBB can give you an honest and in-depth look into Aptive Environmental and Rentokil.
Aptive Environmental: Customers appreciate how easy it is to schedule services and the pet and kid-friendly treatments the company uses. They don't love the pushy sales tactics and unclear billing terms.
Rentokil: Customers love that mosquito treatment is included in their basic prevention packages. Customized plans and knowledgeable technicians round out the company's strengths while customers could do without the large service windows and late technicians.
Cost
Aptive Environmental and Rentokil customize treatments and plans to fit your unique needs.
Aptive Environmental: Quotes can be obtained over the phone. Quarterly pest control treatments start at $45 per month. Prices vary based on location, property size, infestation level, and the number of treatments necessary to resolve the problem. Free re-services are provided should pests reappear in between regular treatments.
Rentokil: A free inspection is required to obtain a price quote. The comprehensive PestFree365 plan costs between $50 to $100 per month. It includes mosquito and bed bug control as well as annual termite inspections. Specialty treatments like bed bug or termite infestation treatments cost between $700 to $1,500.
FAQ About Pest Control
How often do I need service?
The best offense is a great defense. Long-term prevention starts with regular pest control treatments. Most companies recommend quarterly treatments for basic pest control. Seasonal treatments like mosquito control are best performed monthly for maximum protection.
Your unique needs determine your schedule. Factors like the severity of past infections, the types of pests you are dealing with, and your climate all play a role in the frequency of your services. For instance, year-round warmer climates demand a more consistent schedule than those with cold winters.
How soon can I expect results?
When it comes to results, there is no hard and fast timeline. It depends on the type of pest you are dealing with and the severity of your infestation. Most treatments become effective after the first 48 hours. Within this time, it is normal to see an increase in pest activity as they are drawn out of hiding. Some infestations may require additional treatments.
Should I clean before or after my technician visits?
You should always deep clean your home before your scheduled visit. However, we all know life can get in the way, and sometimes it is necessary to clean after your pest control technician sprays.
For best results, it is recommended you wait 24 hours after your treatment application has been applied to resume your regular cleaning schedule. This ensures the treatment has time to dry, giving it time to work properly.
DIY Pest Control
Not ready to commit? Many pests can be safely treated and prevented by common household ingredients like vinegar, boric acid, and essential oils. Check out LawnStarter's Pest Control page for more DIY resources.
Here are some helpful articles to get you started:
13 Plants that Repel Insects
The Limits, Dangers of DIY Pest Control
Other National Pest Control Companies to Consider
A pest-free home just feels safer and more comforting. Be sure to weigh all your options before committing to a new service. Check out these other pest control companies.
Orkin vs. Massey Services: Pest Control Companies Compared
When to Call a Pest Control Pro
DIY methods are great at getting rid of the pests you can see, but removing an infestation is about the pests you can't see. Call a pest control professional from Aptive Environmental at (888) 505-5773 or Rentokil before the unseen pests in your home can cause serious damage.
And if you'd like to consider more local pest control options, Pest Gnome makes it easy to connect with pest control pros near you. With just a few clicks, you'll get quotes in minutes. Soon your pest control problem will be solved.
Main Photo by Sandy Millar on Unsplash with Text and Logo Overlay
Kimberly Magerl
Born and raised in Springfield, Illinois, Kimberly Magerl enjoys growing fruits and vegetables in her garden. When she isn't gardening, Kimberly enjoys trying new recipes and cooking with her home-grown herbs.